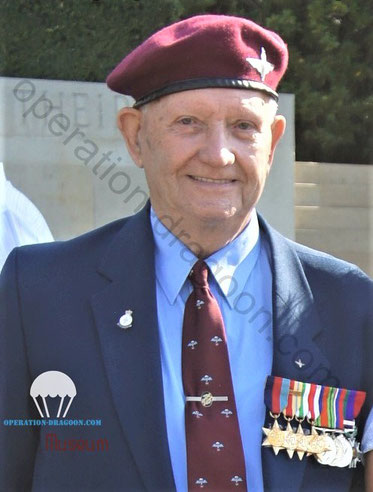 Alex SUTTON was born in Liverpool in November 1923 and was educated at Leamington Road School. In 1939 he joined the Air Cadet Force and later became member of the Home Guard.
Aged 17 he enlisted into The Royal Welch Fusiliers in may 1941 and became a member of the airborne forces when 10th Battalion. Under the command of Lieutenant Colonel Charles Hilary Vaughan Pritchard, the 10th Battalion Royal Welch Fusiliers was converted to the 6th (Royal Welch) Parachute Battalion in August 1942. It was then assigned to the newly raised 2nd Parachute Brigade, alongside the 4th and 5th Parachute Battalions. On formation, the battalion had an establishment of 556 men in three rifle companies. 
---
He attended Royal Air Force base in Ringway for parachute training on course 25, which ran from 31 August to 8 September 1942, this included the third intake of men from the Royal Welch. The three intakes totalled 526 men of whom 461 (88%) passed, including Alex SUTTON. Of the remainder there was one fatal accident, 29 refusals (6%) and 35 injured (17 seriously).
 Alex served as a member of the Medium Machine Gun (MMG) 'Vickers' Platoon.
He and his friends of the 6th Royal Welch Parachute Battalion, were sent to Tunisia in 1943, to prepare for operations in Sicily and Italy.
then he took part of Operation Slapstick who was an amphibious landing at the port of Taranto on mainland Italy. He left Laterza on 8 September, the day before the Italian surrender, and landed unopposed. On that night Alex SUTTON was on board of landing ship HMS Abdiel. Unfortunatly the ship hit a mine in Toranto Harbour, and  fifty-eight men from the 6th Parachute Battalion  drowned that night. Alex was lucky to be rescued after long hours into the sea in the dark.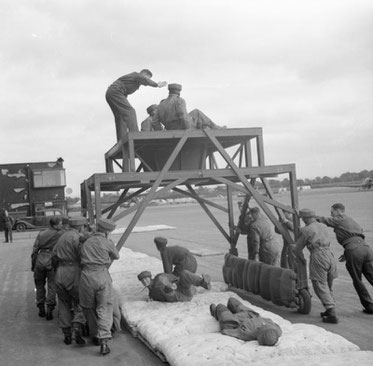 ---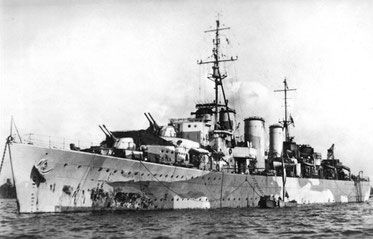 ---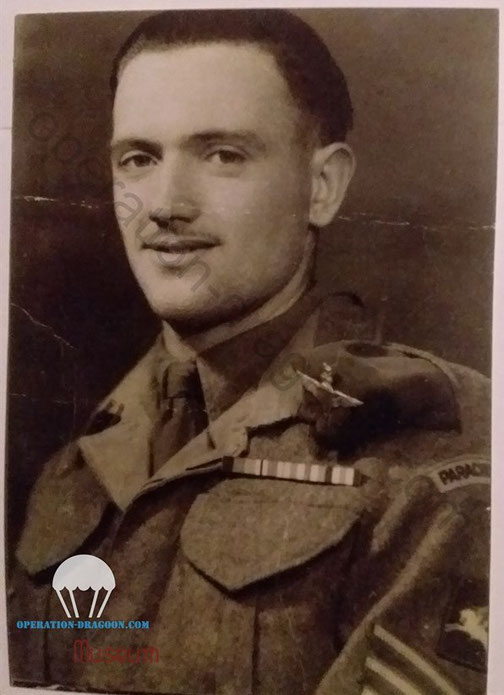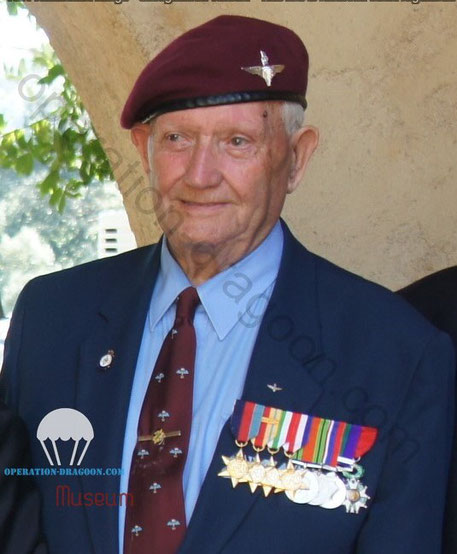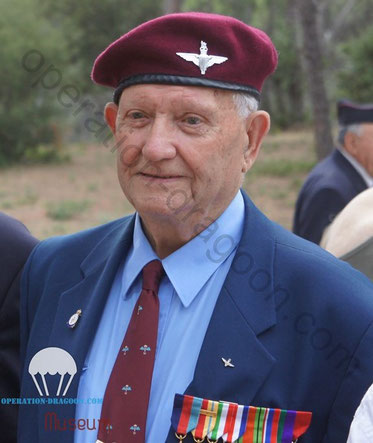 In the first week of august Alex SUTTON was sent on a airbase near Rome to be trained and prepare to the Airborne drop of operation Dragoon. He then took part in its first combat parachute drop in Southern France from 04:40 on 15 August 1944. Alec landed safely, and close to his predesignated drop zone between La Motte and Le Mitan as 70 per cent of the 6th battalion . He and his men of the machine gun platoon set up a defense position on a high ground East of La Motte, and after 4 days clearing the drop zone area, he moved to Frejus for few days in old french barracks waiting to be sailed back to Italy on the 28th of august.
As part of the 2nd Parachute Brigade he was warned for an operation in Greece, Operation Manna, to replace the retreating German Army and ensure law and order was maintained until a government could be formed. The advance party from the 6th Parachute Battalion landed on 12 October on Megara airfield 28 miles (45 km) from Athens.
The 6th battalion returned to Italy but did not see active service again. After the war Alex SUTTON returned to England for a short time, before with the complete brigade joined the 6th Airborne Division serving in Palestine
 and reaching the rank of Colour Sergeant when he left the army in december 1946.
After the War, Alex worked in the education offices for Liverpool City Council, off Dale Street, up until his retirement in 1983.
He lived in Old Swan, and later lived in Newark, Nottinghamshire.
He has been awarded various medals including the 1939-1945 Star, North Africa Star, Italy Star, France and Germany Star.
In 2010 Alex Sutton was awarded the French Légion d'Honneur, for his part in Operation Dragoon by French President Nicolas Sarkozy, at the Royal Hospital, Chelsea.
Alex came back several times in Southern France with his sons to celebrate D day anniversary.(15 of august 1944) We stayed in touch with him until last august.
Alec was a good friend and supporter of our action always helpful to perpetuate the tribute to the men of the 6th Royal Welch and the 2nd independant Brigade on Southern France. 
He passed away on October the 25th 2020.
We will miss him a lot, rest in peace dear friend.
---
All right reserved. Source Operation-dragoon.com archives, IWM paradata Archives. courtezy of Alex Sutton .please contact webmaster for use text or pictures.
---