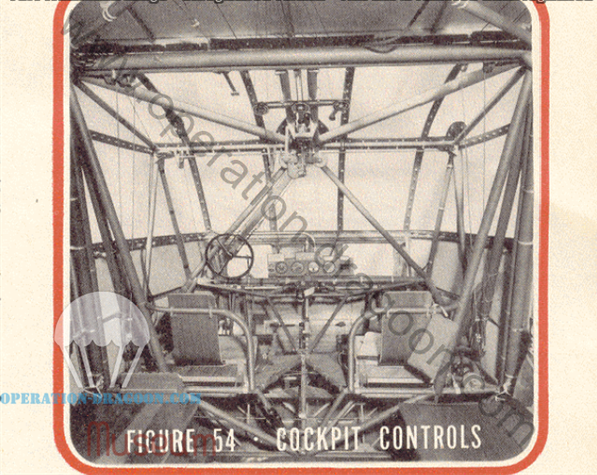 The Cockpit of our project was bought in a farm in the 90's north of La Motte, landing zone "A"..
Le poste de pilotage de notre projet fut racheté en 1989 à un ferrailleur de la Motte, sur la landing Zone "A" au nord du village. 
Cette structure, comportait encore a sa découverte sa peinture d'origine et ses marquages au pochoir d'origine. De là parti le projet de reconstruction. 
---
On the first years of his discovery, we started a Acid cleaning of the tubing permitting to recover about 80 % of his original Zinc chromate paint.
Dés les premières années (1990) la restauration commença, un lent nettoyage manuel centimètre par centimètre à l'acide oxalique permis de remettre à jour près de 80% de sa peinture au chromate de zinc et ses marquages d'origine. Une époque ou les pièces de planeurs étaient encore jetées en déchèterie. (photo déchèterie du Muy années 2000)
Commande des pilotes jetés il y a peu à la décharge du Muy
---
In the summer 1990, the nose was exibited at Le Muy for a week during the celebration time. At this time, nobody was interested to honnor veterans of the southern France "D" day.  
Dans l'été 1990, le cockpit fut exposé pour la première fois lors d' exposition temporaire lors des célébrations du débarquement, a cette époque personne dans la région ne s'intéressait au sujet et à honorer cette page d'histoire. Aucun groupe de reconstitution n'excitait par ailleurs dans le secteur. Ces expositions eurent un impact certain sur les habitants de la région qui avaient vécu ce débarquement et qui année après année apportèrent un fidèle soutien à ce projet.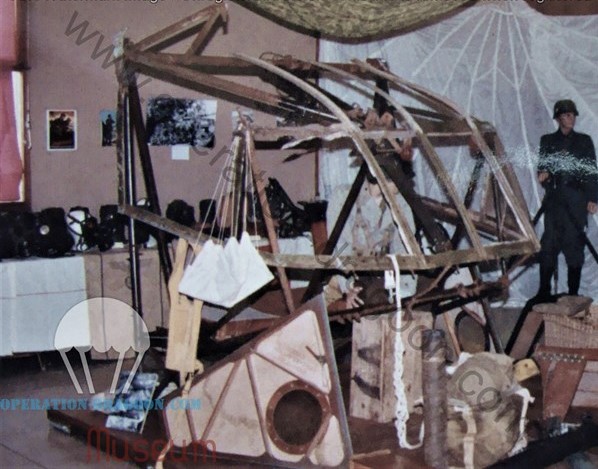 ---
After several temporary exhibitions, ( Les Arcs sur Argens, La Motte, Trans en Provence... drop zone area) the cockpit will be graciously permanently exhibited at the Muy Liberation Museum, founded on August 15, 1994 by Mayor Charlet BARDON and the private collections of Eric RENOUX and Jean Michel SOLDI.
Unfortunatly, A tragic flood will destroy 80% of the collections as well as the glider cockpit which without any public financial help will be removed and again be entirely renovated with private funds. Million thanks to all the people who came and help us in this tragedy, and of course first the veterans and their family.
Après plusieurs expositions temporaires, le cockpit sera gracieusement exposé en permanence au musée de la libération du Muy, fondé le 15 août 1994 par le maire Charlet BARDON et les collections privées d'Eric RENOUX et Jean Michel SOLDI.
Hélas, en juin 2010, une tragique inondation vas détruire 80% des collections ainsi que le cockpit qui sans aucune aide financière publique sera retiré et à nouveau être entièrement rénové avec des fonds privés comme le reste des collections. Un grand merci a ceux qui nous ont aidés et soutenus dans cette épreuve. David, Adrien, Thibaud, Jean Marc, Marie Josée, Luce, Georges, René, et bien sur tous les vétérans et leurs familles.
---
The  GUIMA  company, from Brignoles, southern France, usually specialized in the construction of truck dumpsters welding, put at our disposal its workshops for its reconstruction, its workshop manager, René JEAN BAPTISTE tried to reweld the damaged parts with original tubes. Many thanks to the volunteers and GUIMA Brignoles, Samuel ALTERO for reconstruction special parts, all our friends from the region who kept all these parts since WWII,  Matt ANDERSON for donate and sending bolting for cockpit reassembly,  all the farmers who have kept some parts since WWII and agreed for saling or donate these, but also a big thankyou to Raymond REAMEY, son in law of  glider pilot Harold GOLBRANDSEN, able to delivery and make donation from united stades of the tubing able to be welded. 
Thankyou to the WWII National glider pilot association USA., Charles DAY,  Patricia OVERMAN , Philippe ESVELIN, Marc FAASEN and Mathieu DOUBS for sharing their CG-4A Waco glider knowledges with us.
La société GUIMA, à Brignoles, habituellement spécialisée dans la construction de bennes de camions mis à notre disposition ses ateliers pour sa reconstruction, son chef d'atelier, René JEAN BAPTISTE s'efforça de ressouder avec des tubes d'origine les parties endommagées. Un grand merci aux bénévoles et la société GUIMA Brignoles, mais aussi à notre ami Samuel ALTERO, qui de part sa profession à réussi à reconstruire certaines pièces trop endommagées fidèle à l'origine, à Matt ANDERSON, qui depuis les USA nous fit don de la visserie manquante,  bien évidement tous nos anciens amis de la région Adrien, Albert, Jeannot et les autres devenus des amis, ils avaient conservés dans leurs granges certaines pièces et ont fait leur possible pour retrouver des pièces manquantes. 
Un grand merci également à Raymond REAMEY,  gendre du pilote de planeur américain Harold GOLBRANDSEN qui après nous avoir rencontré lors d'une visite en Provence,  fit dont et expédia depuis les USA gracieusement les tubes en inches permettant ainsi de soutenir et continuer notre projet. 
Merci à la WWII National glider pilots association USA., Charles DAY,  Patricia OVERMAN , Philippe ESVELIN, Marc FAASEN et Mathieu DOUBS pour le partage de leurs connaissances relatives aux planeurs Waco CG-4A.
---
The main part, named, Cargo central part, because it was the place able to transport equipment or soldiers was bought some year later by a incredible circumstance. effectivly the cargo part was used for fire wood stockage and sold on a online website.
Unfortunalty, as the part was closer from the sea, the rust made more dammage on it. Sand blastind, and primer paint have to be used and tubes missing were one more time privided by our friend Ray.
Parts, found since 30 years all around the world and sometimes saved from the dump are carefully added one after one.
La partie centrale, appelée Cargo de part le fait qu'elle était la seule partie avec un plancher et capable d'accueillir le matériel ou les hommes. elle fut découverte par un incroyable hasard alors qu'elle était utilisée d'abris à bois, et fut vendue sur un site d'annonces en lignes. Malheureusement , étant restée proche de la mer, les tubes sont plus corrodés que ceux du cockpit et encore une fois après ponçage et mise d'un peinture primaire des tubes offerts par notre ami Ray permettent jour après jour de remettre en état la structure. 
Les pièces retrouvées ou parfois sauvées des ferrailleurs sont petit à petit remontée a son origine.
---
The tail section was bought some years ago as it was used in a farmbarn for drying corn !.. After a other Acid bath cleaning, it appear as the cockpit part about 90% zinc chromate paint and marking. unfortunatly the tail was split in 2 parts and a welding re.assembly will be necessary. 
La partie arrière du fuselage de queue fut retrouvée par le plus pur des hasards lors de la rénovation d'une grange de la landing zone "A", alors qu'elle avait été découpée en 2 et  servie pendant prés de 60 ans de séchoir à maïs. Les travaux de nettoyage à l'acide Oxalique laissent apparaître prés de 90% de la peinture d'origine et ses marquages. Un grand merci tout particulier à notre "pépés Adrien sans qui rien n'aurait été possible.
---
The glider, whatever its state of restoration is exposed as much as possible to pay tribute to the liberators and the courageous pilots of American gliders.
You can help us, if you have photos of gliders, documents, diagrams, or original parts. Thank you for contacting us.
Le planeur, quelque soit sont état de restauration est exposé le plus possible pour rendre hommage aux libérateurs et aux courageux pilotes de planeurs Américains mais aussi pour le bonheur des quelques survivant habitant de la région qui ont vu atterrir ces oiseaux silencieux ce 15 aout 1944.
Vous pouvez nous aider, si vous possédez des photos de planeurs, des documents, des schémas, ou pièces d'origine. merci de nous contacter.
Ci dessous, la structure dernièrement exposée. Vins sur carami, les Arcs sur Argens à l'occasion du 75em anniversaire. image 2 , les derniers survivants qui ont vu les planeurs en 44 reviennent voir le projet.
---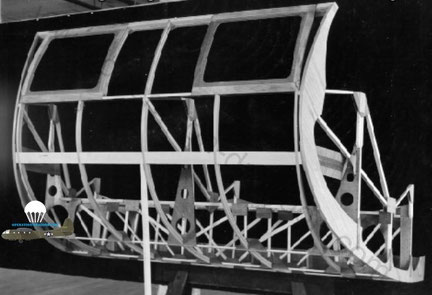 Our friend Franck DUGAS, famous historian and researcher local archaelogist,  faithful to our exhibitions for more than 30 years offers us since 2022 his incredible woodworking talents. 
After having built in 2022 a wonderfull 1/10em scale Waco CG-4A glider model this year begins in sharing our knowledge the identical reconstruction of the wooden fairing of our glider. 
   The first work was to build a template according to the metal structure and the mesurements raised on WWII pictures and some originals  wood fragments we could find in the region as well as an authentic floor of the pilot thus allowing a starting point of the wooden sections.
After severals test and wood adjustement project was on his start. 
---