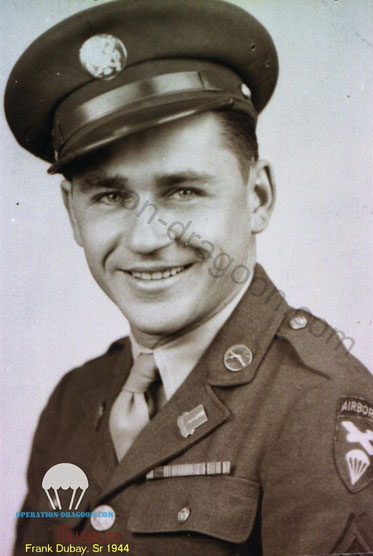 After landing he took part to the liberation of Le Muy and then moved East, along the coast. to Frejus, then Grasse, the Var river valley, and moved north along the italian border to the Gorges de Daluis to arrived end of september in the area of Barcelonnette. 
Frank DUBAY was born in Farrell, state of Pennsylvania. 
He was attached to the 550th Glider Airborne infantry Battalion "A" company with rank of Sergent.
The 550th battalion was under command of Colonel Edward SACHS.
On august 1944 he was sent in Italy to prepare the invasion of Southern France. 
He landed by glider on "D" day, 15th of august on the landing zone "O", vineyards and fields between the villages of La Motte and Le Muy. 
---