Colonel Edward SACHS : the forgotten  Battalion commander of Operation Dragoon.
      He was a wonderfull father, a great man, and a fine officer who was close to his men. It is probably because of his modesty that we have had to wait until 2019 to meet Ed SACHS daughter Mardi, and work with her , Ron Rapice and her sisters  to honor him and dedicate this page. thankyou all for your help.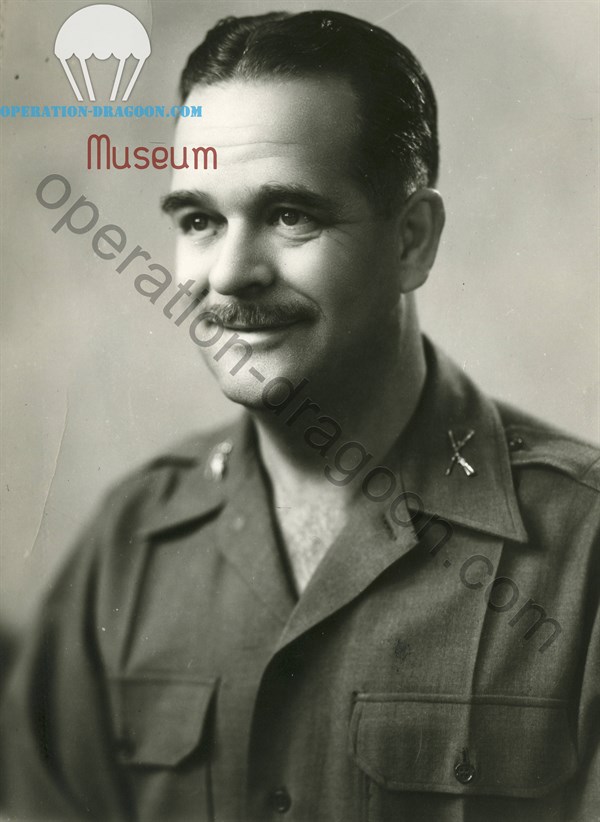 Edward L. SACHS is Born in Chicago, on the 5th of september 1907, he graduated from Saint John's military academy in Delafied, Wisconsin before entering in the famous United States Military Academy of West Point, from which he graduated and was commissioned on the 12th of june 1930. On the 14th of the same month he married Marguarite OTT, and had 3 daugters.
      He became company officer and company commander of the 2nd infantry, at Fort Brady Michigan, from 1930 to 1934. He became company commander of the 27th Infantry at Schofield barracks in Hawaï from 1934 to 1936. He graduated from infantry school in 1937 and became company officer and company commander on service company, of the 5th infantry at Portland Maine, then battalion moved to Panama canal zone from 1937 to 1941. When the 550th infantry battalion was activated on the first of july 1941 at Howard field, Panama Canal Zone, he became Executive officer of the Battalion.  Then for glider training he became executive officer 88th Glider infantry, Camp Mackall north Carolina, and became commanding officer of the 188th glider infantry and Airborne command from 1942 to 1943.
      Lieutenant Colonel SACHS became battalion commander of the 550th infantry Airborne Battalion and was sent in Naples Italy in may 1944 preparing for Operation Dragoon , the second "D" Day, landing in Southern France. After a glider training, Colonel SACHS and his men were moved to a airfield base south of Rome the 550th was part of "DOVE" mission and landed  on a wave of 332 gliders,  in a Landing zone designated "O"  the afternoon  of the 15th of August 1944 in the valley between villages of Les Arcs, La Motte and Le Mitan, 15 miles inland north of Sainte Maxime totalizing 2250 men , 25 howizers, and 166 vehicles. The Battalion mission was to attack and control from the north side the town of Le Muy,  3 miles South of Landing zone, main roadblock going to landing beaches of the 7th Army, 36th U.S division .
      Then he moved 50 miles Est, in maritims Alps, on the Var river valley, up on the Alps and pushed the german Army along the Italian border in Barcelonnette area(see 550th unit history chapter) .
Edward SACHS was battalion commander of that glorious unit until the first of March 1945, when battalion was desactivated in Belgium.
Edward SACHS was awarded by general De GAULLE for his action in France.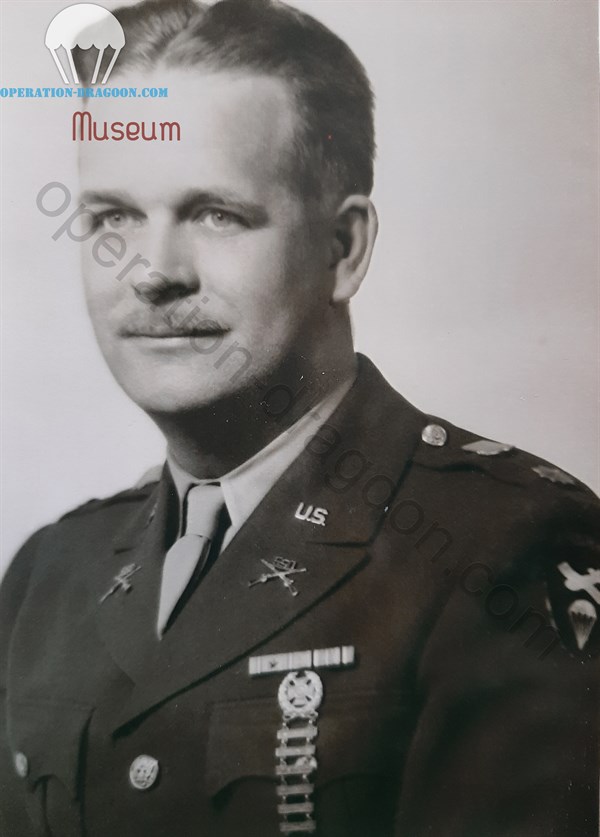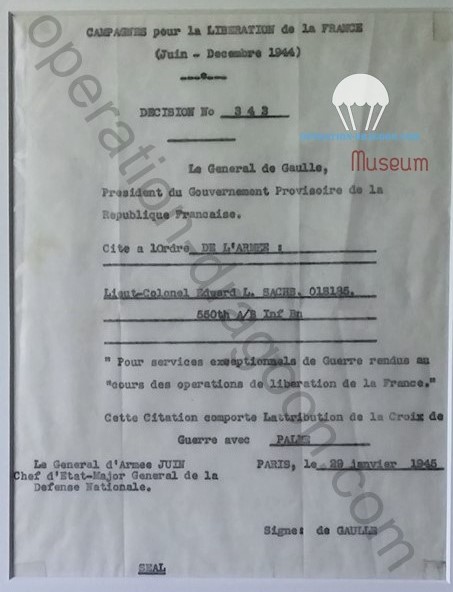 At the end of 1945, after "V" day , he became battalion cammander at the Fort Bragg Airborne command center. North Carolina.
In 1946, he was nominated chief Airborne test section then from 1946 to 1947 he became test officer.
      Moved to Japan, he became executive officer of ETA-JIMA school command from 1948 to 1950.
Moved to Korea he became provost Marshal, of the 8th army head quarter in 1950. Back to japan, he became Special services officer in Tokio 1951.  Back to united states, he became base rights officer in Washington. DC from  1952 to 1955.
      From 1956 to 1957, chief army material section in Paris, and chief maag in Tripoli , Lybia , from 1957 to 1958. Back to United states, he assumed command of the second training regiment at Fort Dix, New Jersey from 1958 to july 1960 date he retired from a long and briliant military career.
     Colonel Edward SACHS was he officer close to his soldiers, loved from his men. He was awarded from legion of merit, bronze star with cluster, purple heart, air medal, defense medal with star, American theater operation, European theater operation with Arrow head, and five stars, Occupation medal, National defense service medal, Corean  Service medal,  french Croix de guerre medal with Palm, Corean Unit citation, Combat infantry badge, glider wings Badge, and department of defense indentification  badge. In addition he has received the United Nations service medal.