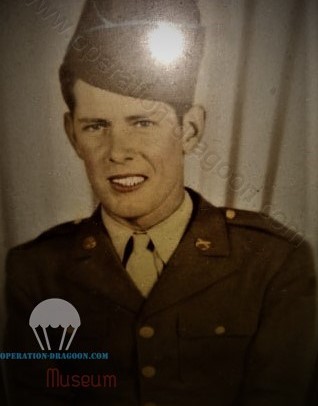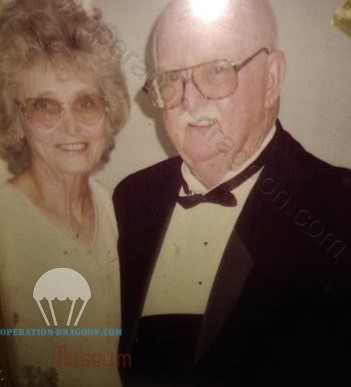 ---
There is some people you meet one day in your life, and they host a place in your Heart for ever.
Charlie and his lovely wife Rena were that kind of people. 
They came in La Motte and Le Muy, southern France landing zone for the 50th anniversary, August 1994. we spend those days together, trying to locate the place he landed on his glider,  places he was , and villages he liberated.
Charlie was born on september the 28th 1925, he join the army and was soon volonteer for airborne training. graduated airborne he joined the famous 82nd Airborne division and was sent in Europe, at Oran, North Africa.
Unfortunatly, during a jump training he baddly broke his anckle and have to cancel his parachute engagement. Because of his qualification on mines and demolition he was attached as a Private first class in the new created unit the 887th Airborne aviation Engineer company.  the unit mission was usualy to be attached to a bigger Airborne unit, and clear mines, explosive and boddy traps in the battle field, as well as blowing out bridges or all enemy defense.
Sicily, then Naples , Italy, and on the way to Rome before he was sent on airfield near Rome preparing the Airborne operation in Southern France. 
Charlie came by a american CG-4A Waco glider with his demolition squad. carrying Mines and  explosives boxes in it.  The flight went well, but the glider he was in touch the soil of France in a huge crash, south of landing Zone "O"  in the morning of the 15th at few meter from the German headquarter Chateau des Serres. 
Charlie remember : " At daybreak, the glider pilot spotted a open field near a drycreek bed,  when we touch the ground the glider crached hardly and the glider pilot was decapitated  at the impact..."
Charlie and his friend  mission was to blow out the german Headquarter but also the Nartuby river bridge close to it going from La Motte to Le Muy.
He later with some of his friend blow out a german 88mm gun position and was awarded of the Bronze star medal.
Il y a des gens que vous rencontrez un jour dans votre vie, et ils hébergent une place dans votre cœur pour toujours.
Charlie et sa charmante épouse Rena furent ce genre de personnes. il sont revenus à La Motte et au Muy,  sud de la France , pour le 50e anniversaire, en août 1994. nous avons passés  ces journées ensembles, essayant de localiser l'endroit où il avait atterri avec son planeur, les endroits où il avait combattu, et les villages qu'il avait libéré.
Charlie est né le 28 septembre 1925, il a rejoint l'armée et a rapidement été volontaire pour une formation aéroportée. Breveté en premier lieu parachutiste, il est incorporé à la fameuse 82e division et est envoyé en Europe, à Oran, Afrique du Nord. malheureusement, au cours d'un entrainement de saut, il s'est gravement cassé la cheville et, en raison de sa qualification sur mines explosifs et démolition, il sera été attaché en tant que soldat de première classe dans la nouvelle unité créée, la 887th Airborne aviation Engineer company. La Sicile, puis Naples, Italie, et en route pour Rome avant d'être envoyé sur l'aérodrome près de Rome pour le préparatif de l'opération Aéroportée dans le sud de la France.
Charlie embarquera dans le planeur américain CG-4A Waco avec son équipe de démolition transportant des mines et des caisses d'explosifs de démolition à l'intérieur. Le vol s'est bien passée, mais son planeur a touché le sol de France sur la zone d'atterrissage "O", dans la matinée du 15 dans un crash trés violent.
 et à quelques centaines de mètres du quartier  allemand du chateau des Serres.
Charlie se souvient: "Au lever du jour, le pilote de notre planeur a repéré un champ découvert près du lit d'une rivière presque asséché, nous transportions avec nous des caisses d'explosif, quand nous avons touchés le sol, dans la violence de l'impact le pilote de planeur a été décapité sur le coup..."
Charlie et ses camarades avaient été rattachés pour la mission au 550em bataillon aérotransporté d'Edward SACHS et pour mission de faire sauter le quartier général allemand mais aussi le pont de la Nartuby à proximité qui va de La Motte au Muy.
Plus tard, avec un de ses amis, il fera exploser une position de canon allemand de 88 mm et recevra la médaille "Bronze Star" (étoile de bronze) pour cette action.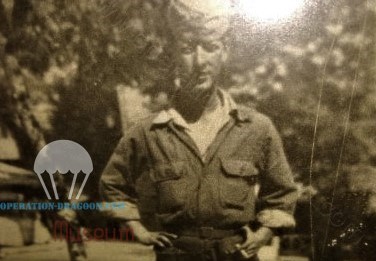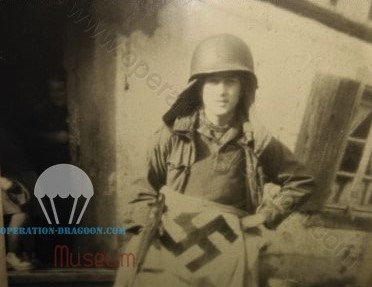 ---
After the battle on the drop zone area, Charlie and his brothers in arms of the 887th Airborne Engineers moved to the Italian Border, the valley of the Var river, Levens, and have the task to rebuilt Nice airport . when his unit was spleet  he was attached to the 14th armored division in the maritimes Alpes as a Scout, leading reco. patrols in front of the other troops.
On 15 November, Combat Command A moved north from the area of Marseille to Epinal to take part in the VI Corps drive through the vosges mountains, and was followed by Combat Command B five days later. Hard fighting helped VI Corps to crack the German defenses, the division was on the Alsace region in early December.
Once in the Alsace region in the mountains north of Strasbourg Charlie had frozen feet he remember crossing the rhine with rain and snow. then he entered in Baviara, february 1945, but he have to wait that germany surrender in may to be admited to a US. field hospital where the heel of his feet were removed.
Après la bataille sur la zone de largage, Charlie et ses frères d'armes de la 887th companie de génie aéroportée vont progresser vers la frontière italienne, par la vallée du Var, Villeneuve Loubet, Levens, avec beaucoup de mission de déminage et aurons également pour tâche de reconstruire l'aéroport de Nice.
Hélas son unité sera bientôt re manillée , il sera rattaché à la 14e division blindée alors en action dans les Alpes maritimes en tant que scout, menant bon nombre de patrouilles de reconnaissance devant les blindés.
Le 15 novembre, " le combat command A " fera mouvement sur Marseilles pour être envoyé à Epinal et prendre part à la traversée et aux combats des Vosges par le VIem Corps et sera suivi par le "combat command B" cinq jours plus tard. Les combats acharnés livrés par le VIem Corps permettrons de percer les défenses allemandes,
la division arrivera sur l' Alsace début décembre.
Une fois dans la région , dans les montagnes au nord de Strasbourg, un des hiver fera des milliers de victimes.
Charlie aura les pieds gelés, il se souvient avoir traversé le Rhin avec la pluie et la neige. puis être entré en Bavière, en février 1945, malgré ses blessures et ses pieds qui le font énormément souffrir , il devra continuer le combat, et devra attendre la reddition de l'Allemagne en mai 1945 pour être admis dans un hôpital de campagne où il sera malheureusement amputé des talons.
---
When he went back to United stades, he had one son, J.D, born on the 14th of november 1946, he later met Rena and married her on the 22nd of June 1948. They had one daughter Yvonne on the 17th of september 1950 and adpoted on boy Charles Ray born on 3rd of January 1968.
Charlie and Rena lived in Florida and was very active in veterans airborne associations 
He continued correspondances with us until he passed away.  Rena still in touch via his daughter Yvonne.
They always host a special place in our hearts after 30 years of friendship.
Après avoir été soigné, Charlie retournera aux Etats Unis, il eut un fils, JD, né le 14 novembre 1946, il rencontra plus tard Rena et l'épousa le 22 juin 1948. Ils eurent une fille Yvonne le 17 septembre 1950 et adoptèrent un petit garçon, Charles Ray né le 3 janvier 1968.
Le révérend Charlie BANDY et Rena vécurent en Floride toujours très actif dans les association de vétérans.
Nous n'avons jamais cessés de correspondre jusqu'à ce qu'il décède. Nous sommes toujours en contact avec son épouse Rena et sa fille Yvonne.
ils tiendrons toujours une place spéciale dans nos cœurs après 30 ans d'amitié.