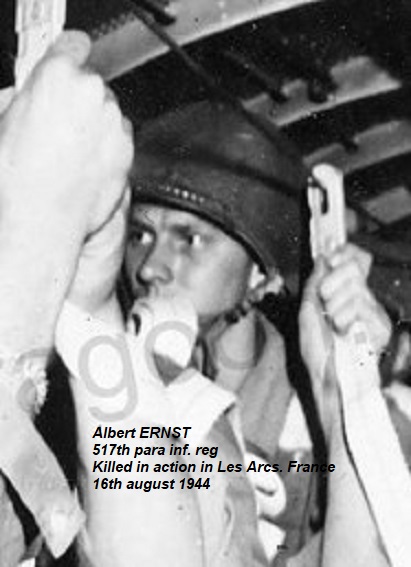 Albert J ERNST was born on the 28 Déc 1922 in
Bronx County, New York. 
In 1943, Albert volunteered for airborne troops and was attached to A company of the 517th parachute infantry regiment .
The regiment took-off from Italy at about midnight and was dropped on the 15th of august 1944 at about 4.30 in the morning in southern France , part of the operation Dragoon. 
After landing south of Trans en Provence, Albert ERNST joined Regimental Head Quarter Sainte Roseline  East of Les Arcs at daylight. 
He was sent in the early morning of the 16th in Les Arcs and walked down the main street to the railway Station.
At about 100 yards first battalion commander major BOYLE group encountered a hard enemy resistance and was taken under heavy fire. 
After a first and hard fight Major BOYLE in front ordered  his men to retreat. 
Albert ERNST was killed at the moment he was protecting that retreat at the Railway bridge.  
Albert is burried at Long Island National Cemetery
East Farmingdale, Suffolk County, New York, USA
---