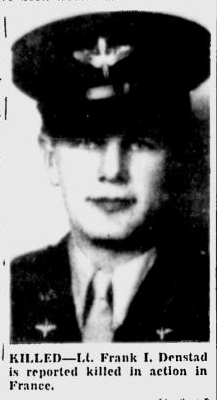 Lt. Frank DENSTAD was killed in action on July 12, 1944 on a mission to Nimes, France. Aircraft was shot down by enemy fighter planes near Saint Martin de Palière, France. He was a co-pilot of a B-24G Liberator bomber (AAF S/N 42-78282) with the 766th Bomb Sq (H), 461st Bombardment Group, 15th Air Force stationed in Torretta, Italy.
Frank graduated from Granite High School and enlisted in June, 1942. He was assigned to overseas duty in January 1944 and had completed 32 missions over enemy territory. He received the Air Medal with two oak leaf clusters and a special presidential citation. He was survived by his wife and two-year old daughter living in Salt Lake, his mother and a sister.
Gravesite services held at the Salt Lake City Cemetery on Nov. 4, 1948. link to 42-78202 B24 bomber full story.(source find a grave)
---
Le lieutenant Frank DENSTAD a été tué au combat le 12 juillet 1944 lors d'une mission vers Nîmes, France. L'avion a été abattu par des avions de chasse ennemis près de Saint Martin de Palière.
Il était copilote d'un bombardier B-24G Liberator (AAF S/N 42-78282) appartenant au 766th Bomb Squadron (H), 461st Bombardment Group, 15th Air Force stationné à Torretta, en Italie.
Frank etait diplômé de la Granite High School et s'est enrôlé en juin 1942. Il a été affecté à un service outre-mer en janvier 1944 et avait effectué 32 missions en territoire ennemi. Il a reçu la Médaille de l'Air avec deux feuilles de chêne et une citation présidentielle spéciale. Il laissa dans le deuil sa femme et sa fille de deux ans vivant à Salt Lake, ainsi que sa mère et une soeur.
un Services funéraires fut tenus au cimetière de Salt Lake City le 4 novembre 1948 et où il repose encore ce jour (source find a grave) pour voir l'histoire complète du bombardier 42-78202 cliquer ici.
---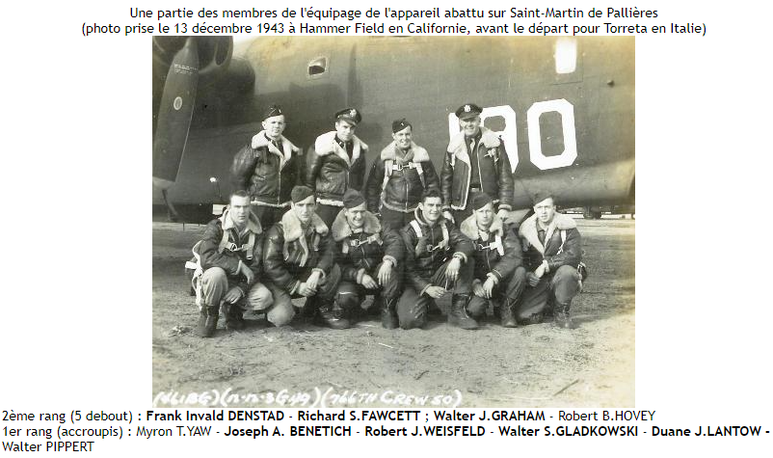 ---