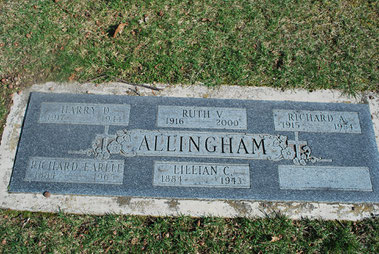 Harry Donald ALLINGHAM was born August 17, 1917, in Michigan.
    1st Lieutenant in company D of the 517th Parachute Infantry Regiment, he will be killed on Christmas Eve, December 24, 1944, in Soy, Belgium during the Ardennes offensive. .
    The objective of this attack was to capture and establish defensive positions on the Soy / Hotton road. The 1st battalion will accomplish its mission in two days of hard fighting and at the cost of heavy losses.
---
Harry Donald ALLINGHAM est né le 17 Août 1917, dans le Michigan. 
1st Lieutenant au sein de la compagnie D du 517th Parachute Infantry Regiment, il sera tué le jour du réveillon de noël, le 24 decembre 1944, à Soy, en Belgique lors de l'offensive des Ardennes. .  
L'objectif de cette attaque était de capturer et établir des positions défensives sur la route Soy/Hotton. Le 1st battalion accomplira sa mission en deux jours de durs combats et au prix de lourdes pertes.