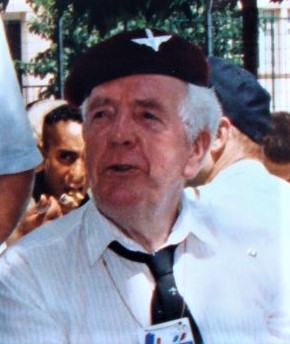 (Page under construction with courtezy of Spike Nolan daughter Carol and Grand daughter Danielle)
James Spike NOLAN, Member of the "B" company, 4th British parachute battalion of the 2nd independent para brigade, part of the First Airborne Task Force division dropped in southern France between villages of La Motte, Le Mitan and Le Muy on Drop Zone "O" at 4.30 am on the 15th of August 1944. 
The 2nd independent para brigade, was part of the First Airborne Task Force division, the Airborne part of the second "D" day in France code named "Operation Dragoon".
Spike was born in West Derby, East of Liverpool ,  Lancashire county on the North West of England on the 10th of October 1920. 
At about 17 he joined the famous Coldstream guards, in 1941, a new unit was born, the paratroopers. He volonteered for the parachute training and enlisted the parachute regiment and was affected to the 4th battalion.
Before the jump, Spike and his friends of the 4th battalion were trained in Italy, near Rome.
"B" company mission was to take, secure and set observation and defense position on the hight ground, and hills North-East of the town of Le Muy. 
Le Muy was a strong point, crossroads and railway going up and dawn to the presumed landing beaches 10 miles South. The control of this crossroad was of strategic interest for a total success of the landing in case of german army reinforcement. 
"B" company  drop was a total success and under command of company commander Richard HARGREAVES, "B" coy was assembled and ready for action at daylight on "D" day. After 2 days of battle, and many wounded and and unfortunatly some killed, the town was freed and the main road going inland was open to the Allied troops of the 7th Army of general Alexander PATCH and the Free french forces. 
After those days, Spike and his friend of the 4th moved south East along the coast, and stayed for bording back to Italy at the french military barrack in town of Fréjus.