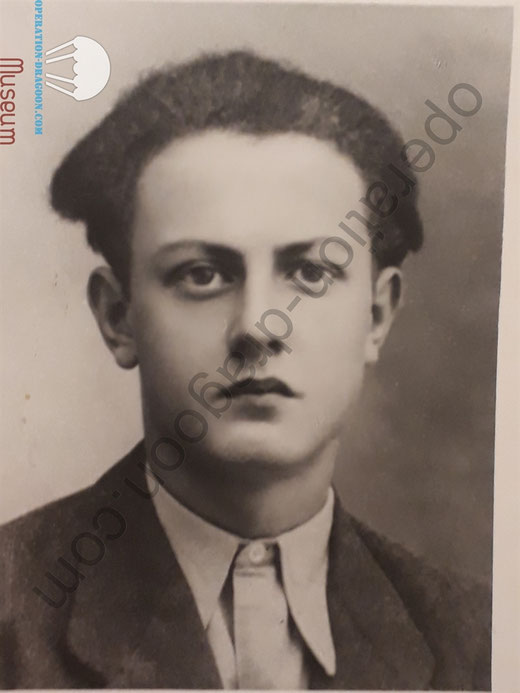 Marius OLLIVIER est né le 12 juillet 1923 à Roquefort-les-Pins (Alpes-Maritimes). Dès la fin de ses études à l'école communale de Claviers, il devient ouvrier agricole et de par les idéos de son père sera avec ses camarades Louis GAL et  Félix JOURDAN fondateur de la cellule communiste du village avant la guerre. Après son service dans les chantiers de jeunesse, il va vite entrer dans la résistance au sein des F.T.P.F. (Francs tireurs partisans Français) Il participe à de nombreuses actions de sabotage et parachutage d'armes avec le groupe Valcelli. 
Le 16 août 1944 il fera partie avec le gendarme CHEVALIER du groupe qui a pour mission de descendre de Claviers sur la route Grasse/Draguignan pour prendre le contrôle du pont de l'Estoc. Drame tragique. Les résistants dont Marius fait partie entendent arriver un convoi américain. Les libérateurs qui viennent de débarquer sont déjà là..? Le groupe avance à découvert. C'est un convoi allemand en armes qui a déjà souffert de plusieurs attaques depuis Grasse. Les allemands ouvrent le feu. Les hommes n'ont pas le temps de riposter. Marius reçois une rafale en plein ventre. Dans la panique, les survivants s'enfuient en tous sens. Marius OLLIVIER a la force de remonter la rivière asséchée. Il arrive à la petite maison du passage à niveau un peu plus haut et reçoit les premiers soins de madame BARDANNE alors qu'il tient avec ses mains ses entrailles. Il est ensuite conduit à Bargemon où il succombera à ses blessures.
Toutes les années une cérémonie a lieu au pont de l'Estoc à la date anniversaire.
---
Marius OLLIVIER was born on July 12, 1923 in Roquefort-les-Pins (Alpes-Maritimes). At the end of his studies at the municipal public school of Claviers, he became a farm worker and by the ideos of his father will be with his comrades Louis GAL and Félix JOURDAN founder of the communist cell of the village before the war.
After his service in the French youth camps of Vichy government, he will quickly join the resistance within the F.T.P.F. (Francs shooters partisans French) He participated in numerous actions of sabotage and parachuting of weapons with the Valcelli group.
On August 16, 1944, along with gendarme CHEVALIER, he was part of the group whose mission was to go down from Claviers on the Grasse / Draguignan road to take control of the Estoc bridge. Tragic drama. The resistance fighters, including Marius, heard a convoy arrive. Did the allied who have just landed are already there ? The group advances in the open place. It is a German armed convoy which has already suffered from several attacks since the town of Grasse. The Germans open fire. The men don't have time to fight back. Marius receives a machine gun fire in the stomach. In panic, the survivors fled in all directions.
Marius OLLIVIER has the strength to go up the dry river. He arrives at the small railway crossinf house a little higher and receives first aid from Mrs. BARDANNE while he holds his entrails with his hands. He is then taken to Bargemon where he died of his injuries.
Every year a ceremony takes place at the Estoc bridge on the anniversary date.