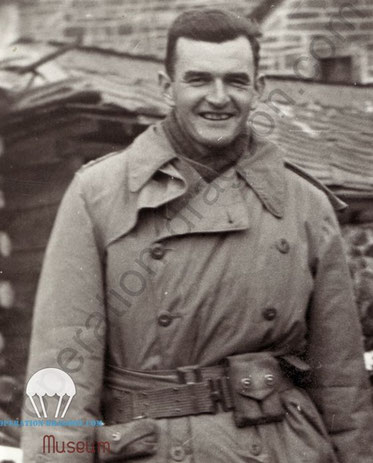 Robert "Bob" DALRYMPLE was born in Brazil, Indiana, on the 10th of june 1917.
  He was the younger brother of sister, Ruth, and brother, John. 
After joining the US army and the corp of Engineers Robert DALRYMPLE had been asked to join the airborne troops as the US army was planing to activate some Engineer units attached to the infantry. 
Before he had attended with his officers a 30 day course at Fort Belvoir, Virginia, after that hard training period.
At the end of that period he was asked to became company commander of the new formed 596th Airborne engineers company. 
This unit was attached to a Combat team including the 517th parachute infantry regiment, and the 460th Airborne Artillery batallion. 
Robert DALRYMPLE and his unit was sent to Europe, Italy, then preparing near Rome for the second D day. Operation Dragoon 15th of august 1944. 
---
For that operation, the 3 platoons of the 596th aiborne Engineer company were split in 3 differents main units of the combat team. 
Bob retired as a full Colonel in the Army Corps of Engineers, having served as a 596th  paratroop Airborne company commander in Europe from Italy to Battle of the Bulge in World War II and the following years in service to his country until retirement in 1965.
In 1978 after finishing his second career as a professor at Metropolitan State University in Denver, he moved to Green Valley  One of Bob's loves was singing and he led the "Lonesome Cowboys" singing group right here in Green Valley,
 Robert DALRYMPLE was a very active member of the 517th parachute combat team association and was president during the 90's at this time we welcome him and a group of 517th members in september 1994.
He passed away on 30 of may 2018 at the age of 101. He is burried at Fort Logan national cemetery, Denver Colorado.