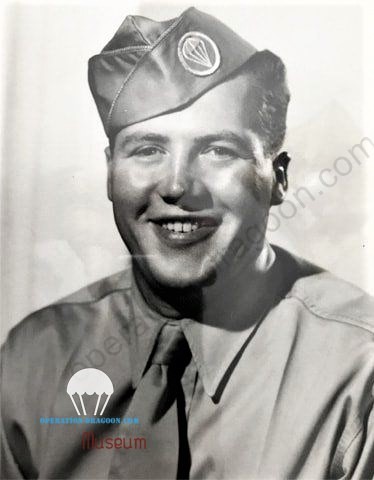 ---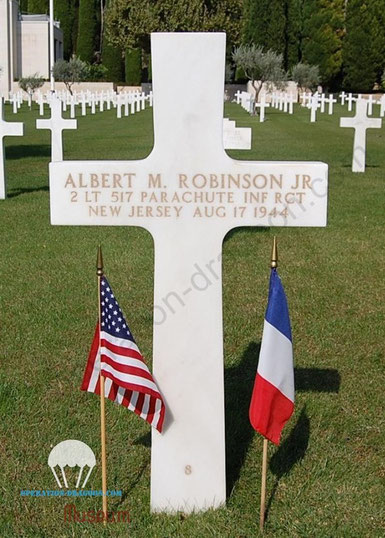 2nd Lt Albert M ROBINSON, Junior was born in Bloomfield, Essex County, New Jersey in October the 25th  1920.
The 1940 census list him as a 19 year old apprentice at General Electric. 
He volunteered paratroopers and was attached to the 517th paracgute infantry regiment.
The unit was formed in early 1943 and trained at Camp Toccoa, Georgia. The 517th saw heavy fighting in the Italian Campaign in June 1944, before being transferred near Rome (Italy) to take part in Operation Dragoon in August 15th 1944, in Southern France, which happened to be their first combat jump.
Lieutnant ROBINSON is listed as a Non-Battle Casualty. Apparently he was hospitalized in Italy but went AWOL (absent without official leave but without intent to desert.)  from the hospital to rejoin his Battalion so as not to miss Operation Dragoon.
"Throughout the combat period, troopers who could have delayed their exposure to the perils of battle, demonstrated time and time again their loyalty to the outfit, going to extremes in order to rejoin their comrades.
The second battalion, 517th para regiment was dropped on landing zone A, between villages of Le Mitan and La Motte. His mission was to take and hold this town situated about a 2 miles West of regimental Head Quater Chateau Ste Roseline in Les Arcs.
About the circumstances of his death, his niece Cindy told us :
"Resistance locals still alive in the 70s told my family he gave away all his chocolate to the kids who were fighting with the 517. Some of the Resistance Fighters were 14 and 15. He was wounded and they tried to get him to the medics on a make shirt stretcher but he died in route"...
Lieutnant ROBINSON is buried in American Rhône cemetery in Draguignan at plot B, Row 4, grave 8. 
Boulevard Albert M. Robinson, Jr., near the entrance to the American Cemetery in eastern Draguignan, is named in his honor.
---
Le 2nd Lt Albert M. ROBINSON, Junior est né à Bloomfield, comté d'Essex, New Jersey le 25 octobre 1920.
Au recensement de 1940 il est répertorié comme un apprenti de 19 ans chez General Electric.
Il s'engage comme parachutiste volontaire et est rattaché au 517e régiment d'infanterie parachutiste.
L'unité a été formée au début de 1943 et formée au Camp Toccoa, en Géorgie.
Le 517th connut de violents combats lors de la campagne d'Italie en juin 1944, avant d'être transféré près de Rome (Italie) pour participer à l'opération Dragoon le 15 août 1944, dans le sud de la France, qui se trouva être leur premier saut de combat.
Le lieutenant ROBINSON est répertorié comme victime hors combat.
Apparemment, il a été hospitalisé en Italie mais fut porté "AWOL" (absent sans autorisation officielle mais sans intention de déserter.) de l'hôpital pour rejoindre son bataillon afin de ne pas manquer l'opération Dragoon.
"Tout au long de la période de combat, les soldats qui auraient pu retarder leur exposition aux périls de la bataille,
ont démontré à maintes reprises leur fidélité allant aux extrêmes pour rejoindre leurs camarades.
Le deuxième bataillon, du 517th para regiment est largué sur la zone A, entre les villages du Mitan et de La Motte.
Sa mission était de prendre et de tenir cette ville située à environ 2 miles à l'ouest du quartier général du régiment Chateau Ste Roseline aux Arcs.
A propos des circonstances de sa mort, sa nièce Cindy nous a dit :
"Des habitants membres de la résistance encore en vie dans les années 70 ont dit à ma famille qu'il avait donné tout son chocolat aux enfants qui se battaient avec le 517.
Certains des résistants avaient 14 et 15 ans. Il a été blessé et des jeunes résistants ont essayé de l'amener aux médecins sur une civière qu'ils fabriquèrent avec leurs chemises mais il est mort en cours de route"...
Le Lieutenant ROBINSON est inhumé au cimetière américain du Rhône à Draguignan au plot B, Rang 4, tombe 8.
Le boulevard Albert M. Robinson, Jr., près de l'entrée du cimetière américain de l'Est de Draguignan, est nommé en son honneur.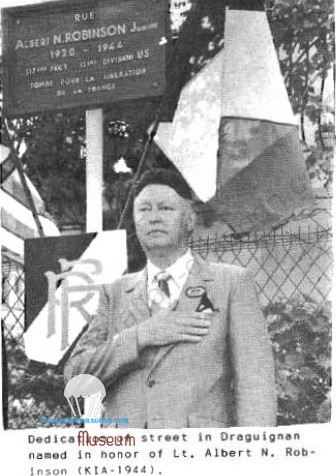 ---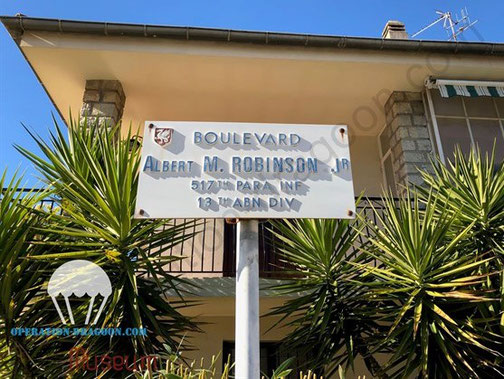 ---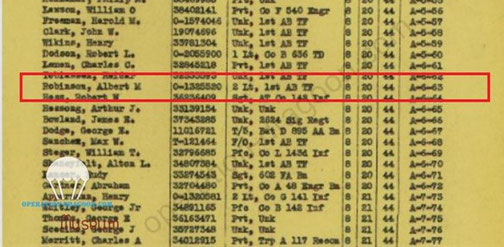 ---
Remerciements à Cindy ROBINSON KARST, niece du lieutenant, à l'association du 517th. sources. Operation-dragoon.com, Find a grave, National archives.