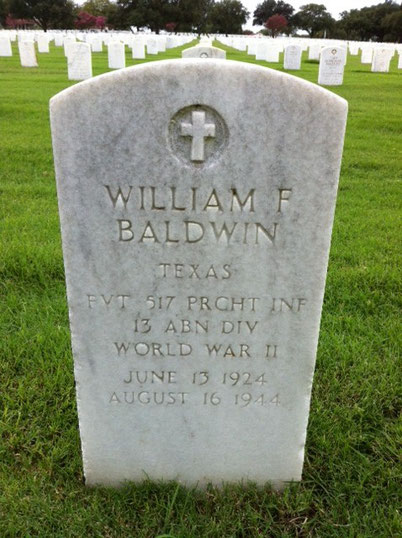 William Franklin BALDWIN was born on June 13, 1924 in San Antonio, Texas.
     Technician 5th grade within the 517th Parachute Infantry Regiment, in the "Hq" company of the 1st battalion.
     He was killed on August 16, 1944, barely a day after the start of the airborne operation in the south of France.
     Even if the circumstances of his death are unknown, everything suggests that he was killed during the German counter offensive in Les Arcs sur Argens, a counter offensive which aimed to retake the village of Les Arcs then in the hands of the 1st battalion of the 517th PIR.
---
William Franklin BALDWIN est né le 13 Juin 1924 à San Antonio, Texas.
Technician 5th grade au sein du 517th Parachute Infantry Regiment, dans la "Hq" company du 1st battalion. 
Il sera tué le 16 Août 1944, un jour a peine après le début de l'opération aéroportée dans le sud de la France. 
Même si les circonstances de sa mort sont inconnues, tout porte à croire qu'il à été tué lors de la contre offensive allemande aux Arcs sur Argens, contre offensive qui avait pour objectif de reprendre le village des Arcs alors aux mains du 1st battalion du 517th PIR.