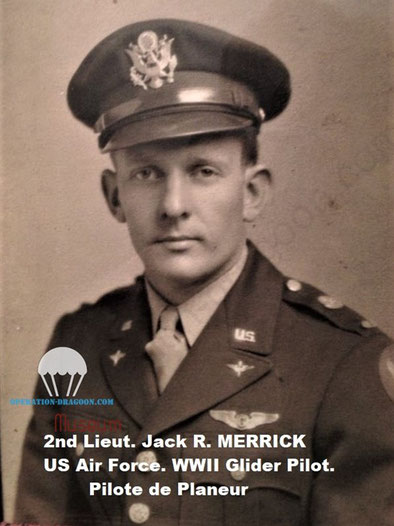 Jack MERRICK was born May 7, 1921 in Strawn, Texas to Fred R. and Tennie C. Merrick.  He graduated from Newsome Dougherty Memorial High School (GHS) in 1938, attended Gainesville Texas Junior College (NCTC), and the University of Texas at Austin.  Mr. Merrick graduated from the Civilian Pilot Training Program and received his private pilot's license in May 1940.  He graduated on may 1943, from south Plain, Lubbock army school and served as a glider pilot during World War II with the US Army Air Forces and was assigned to the 84 TC Squadron of the 437th Troop Carrier Group.  As a glider pilot, Jack Merrick participated in Normandy D-Day, 6th of june 1944, Operation Dragoon, second D- day, in southern France, palce he let's on the ground his armor flak helmet recovered during the 90's , and also participated to the operation Market Garden in Holland.  He married Mary C. Brown on January 29, 1947 and they settled in Gainesville in 1955 where he was a State Farm Insurance agent until his retirement in 1992 . Jack passed away on october the 18th 2018 aged of 97.
Jack MERRICK est né le 7 mai 1921 à Strawn, au Texas, de Fred R. et Tennie C. Merrick. Il est diplômé de Newsome Dougherty Memorial High School (GHS) en 1938, a fréquenté le Gainesville Texas Junior College (NCTC) et l'Université du Texas à Austin. 
Jack Merrick sera diplômé du programme de formation des pilotes d'aviation civile et avait obtenu sa licence de pilote privé en mai 1940. Quand la guerre éclate, il se porte volontaire dans la U.S. Airforce, et vas rejoindre l'école des pilotes de planeurs de south Plain, Lubbock Texas ou il recevra son brevet de pilot en mai 1943. Il sera affecté au 84e Escadron ,  du 437th Troop Carrier Groupe.
En tant que pilote de planeur, Jack Merrick a participé au Débarquement de Normandie, le 6 juin 1944,
à L'opération Dragoon, le second jour J, dans le sud de la France, le 15 Aout 1944, Il pausera son planeur dans les vignobles du château de Valbourges, entre le village de La Motte, et Les Arcs sur Argens , c'est ce jour là d'ailleurs qu'il laissera sur sa zone son casque de protection anti aérien, que nous avons retrouvé dans les années 90, il a également participé à l'opération Market Garden en Hollande. A son retour aux Etats Unis, Il épousera Mary C. Brown le 29 janvier,
1947 et ils s'installent à Gainesville en 1955 où il etait agent de la State Farm Insurance jusqu'à sa retraite en 1992. Jack est décédé le 18 octobre 2018 à l'âge de 97 ans.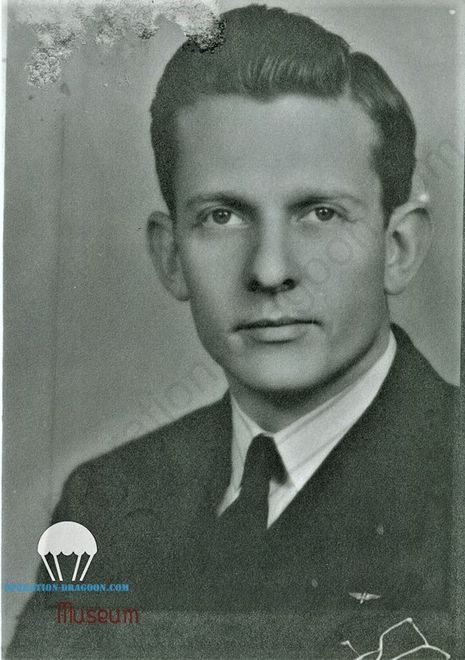 ---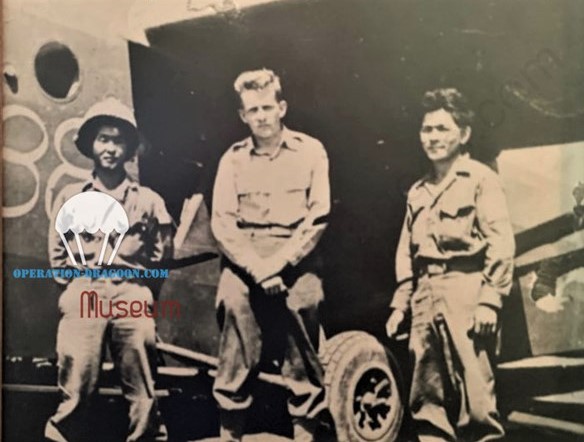 ---
Copyright Operation-dragoon.com. Jack Merrick family. courtezy Cindy BRYANT MERRICK. 2022