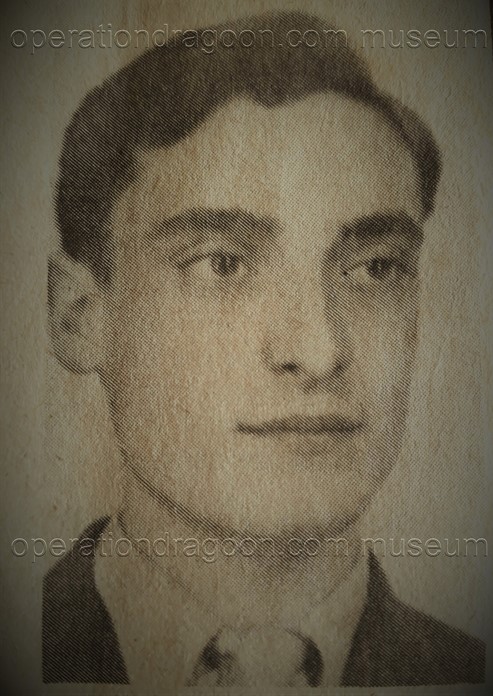 Roger Fréani est né le 19 Mars 1925 à Draguignan. Il rejoint dès 1943 un réseau de Résistance du secteur de Draguignan, Le G.A.R. (Groupe d'Avant-garde Républicain.) il en devient chef de sizaine, (6 hommes) et prendra part à de nombreuses actions de sabotages avec ses hommes au sein du groupe. (Attaques de convois, réception d'armes ..)
En ce matin du 15 août 1944, alors que le débarquement allié vient d'avoir lieu sur les côtes de Provence, Roger pars en mission à Lorgues il croise en chemin un groupe de résistants Lorguais qui lui proposent de se joindre à eux. 
Roger s'embarque donc dans une des deux camionnette conduite par le résistant Lorguais René JASSAUD avec une quinzaine deses camarades. Leur mission est de récupérer les armes parachutées et cachées au Nord des Arcs dans les Selves des Nouradons ils pourrons ainsi se battre a armes égales pour définitivement anéantir l'ennemi. Une fois les armes récupérées dans la matinée,  les résistant décident de rentrer a Lorgues par le sud, ils déscendent aux Arcs par la départementale 57,  Ils traversent la ville des Arcs où ils sont avertis par la population que la ville est encore aux mains des Allemands au sud alors que les premiers parachutistes arrivent sur la place. 
 Les résistants forts de l'arsenal qu'ils viennent de récupérer continuent leur route malgré tout. Ils vont effectivement se heurter à une contre offensive bien organisée au sud de la gare. 
Ils ripostent, mais inférieurs en hommes au total ce sera  13 résistants qui vont perdre la vie ce 15 août.... Le corps de Roger FREANI fut retrouvé gisant dans son sang aux côtés de ses frères d'armes.
Ses obsèques ont lieu le 23 août à Draguignan quand la ville est définitivement libérée, Roger FREANI sera décoré de la croix de Guerre avec étoile de Vermeil.
Depuis mars 1980, l'ancienne place des Halles à Draguignan a été rebaptisée "place Roger FREANI". La plaque est apposée sur le numéro 48, maison natale de Roger où sa mère vécut jusqu'à ses derniers jours...
Sur sa tombe, ses frères d'armes du G.A.R. ont inscrit : "Patriote d'un esprit républicain très poussé, enthousiaste, volontaire pour les missions les plus périlleuses. A recherché le combat contre l'envahisseur nazi durant toute la période du 6 juin 1944 et le débarquement victorieux du 15 août. A été tué dans la région des Arcs alors qu'il effectuait une opération avec les patriotes Lorguais dans les premières heures de l'après midi du 15 août. Mort en pleine jeunesse, il n'a pas démérité la devise des scouts de France auxquels il appartenait depuis longtemps. Il a été digne de la nouvelle république dont il n'a vu que l'aube..."
remerciements à la famille de Roger FREANI pour l'aide apportée à la rédaction de cet article. 
Recherches archives des Armées Paris par operation-dragoon.com
---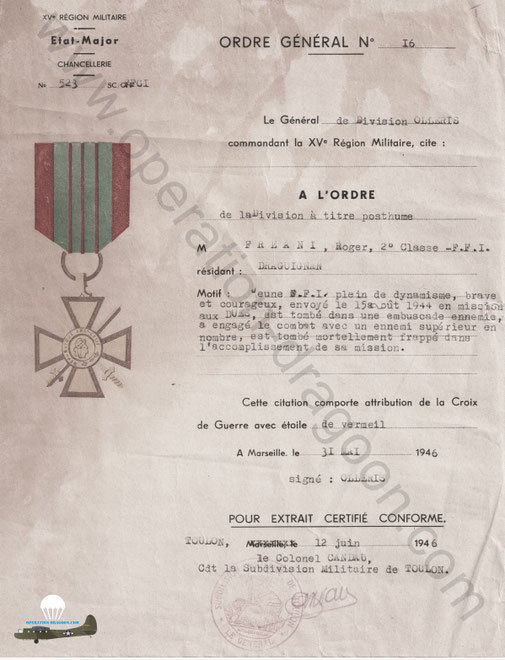 ---
Roger Fréani was born on March 19, 1925 in Draguignan. In 1943, he joined a Resistance network in the Draguignan area, Le G.A.R. (Republican Vanguard Group.) He becomes head of six, (6 men) and will take part in numerous actions of sabotage with his men within the group.
On the 15th of august, while the Allied landing has just began in southern France, Roger is on his way for a mission to Lorgues and at the end of the morning, this August 15, 1944 he embarks in the truck driven by the resistant Lorguais René JASSAUD and the group of local resistance fighters to Les Arcs where parachuted weapons were to be pickup and dispatched.
Unfortunately, the convoy will come up against the return of the German troops who are preparing a counter-offensive south of the Arcs station. In total, 13 resistance fighters will lose their lives that day .... The body of Roger FREANI was found among them.
Roger will be posthumous awarded of the french military war cross with vermillion star .
Since March 1980, the former Place des Halles in Draguignan has been renamed "Place Roger Fréani". The plaque is affixed to number 48, Roger's birthplace where his mother lived until his last days ...
On his grave, his brothers in arms of the G.A.R. wrote: "Patriot with a very strong republican spirit, enthusiastic, voluntary for the most perilous missions.
Researched the fight against the Nazi invader throughout the period of June 6, 1944 and the victorious landing of August 15. Was killed in the region of Les Arcs while carrying out an operation with the Lorguais patriots in the early afternoon hours of August 15. Death in his youth,
he did not undermine the motto of the French Scout to which he belonged for a long time. He was worthy of the new republic of which he saw only the dawn ... "