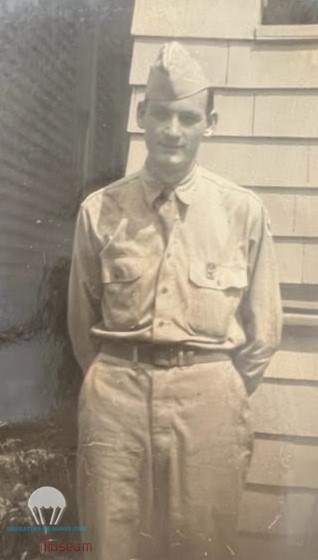 Morris Swackhammer was born on May 12, 1924, in Wyalusing, Bradford County, Pennsylvania, to Morris Austin Swackhammer and Beulah Youngs Swackhammer. He grew up with two older brothers and a younger sister.  
   Private First Class SWACKHAMMER joined the United States Army in Binghamton, New York, in 1942. In the second half of 1943 SWACKHAMMER was assigned to Company C, 1st Battalion, 143rd Infantry Regiment, 36th Infantry "Texas' Division. He particpated in the Italian campaign in 1943, where he was wounded. In August, his unit landed on the south coast of France as part of Operation DRAGOON. The 1st Battalion, 143rd infantry regiment landed in le Dramont, codenamed "Camel" Green Beach at 09.35am. After securing the coastal harbors, the 36th ID advanced north, in Rhône valley meeting the D-Day invasion force before turning towards Germany. On November 22, SWACKHAMMER's unit engaged in a fierce firefight with enemy troops in a wooded area northwest of Fraize, a village in the Vosges region. 
   That day, Morris SWACKHAMMER is hit by a burst of German machine gun fire. His comrades, forced to fall back, had to leave him behind due to the strength of the enemy attack.
    After Fraize was freed, SWACKHAMMER's body could not be found,  it is likely that German troops or the people of Fraize area removed it and burried him somewhere.
 The American Graves Registration Command (AGRC) was tasked with recovering the remains of military personnel who died in the European theater after the war. Sometime in 1945, American personnel recovered an unidentified body, designated X-756 in Epinal, from a cemetery in Fraize. Although the AGRC thought X-756 might be SWACKHAMMER, they could not confirm due to lack of identifying information on his records. X-756 was interred at the Ardennes American Cemetery in Neupré, Belgium.
After extensive historical research and correlation of various US military and French civilian sources, DPAA officials concluded that the remains designated as X-756 were strongly associated with Morris SWACKHAMMER. X-756 was exhumed in July 2019 and transferred to the DPAA laboratory at Offutt Air Force Base, Nebraska, for analysis.
   To identify SWACKHAMMER's remains, DPAA scientists used dental and anthropological scans. Additionally, scientists from the Armed Forces Medical Examination System used mitochondrial DNA (mtDNA) analysis.
   Morris SWACKHAMMER's name is recorded on the walls of the missing at Epinal American Cemetery, a US Battle Monuments Commission site in Dinozé, France, along with still others missing from World War II. A rosette will be placed next to his name to indicate that he has been identified.
   Private first class Morris SWACKHAMMER have been buried in Arlington National Cemetery in Virginia last week,  June 28, 2022 exactly one year after his body was identified, close to his brother Leon Swackhammer who also fought in World War II with the Marines. Two brothers separated for 78 years are finally reunited.
   Our thanks go to Travis,  Morris SWACKHAMMER's great nephew,  who came in touch with us and make us the honor of allowing us to pay tribute to his great uncle who died for the freedom of our country. The French nation will be forever grateful.
---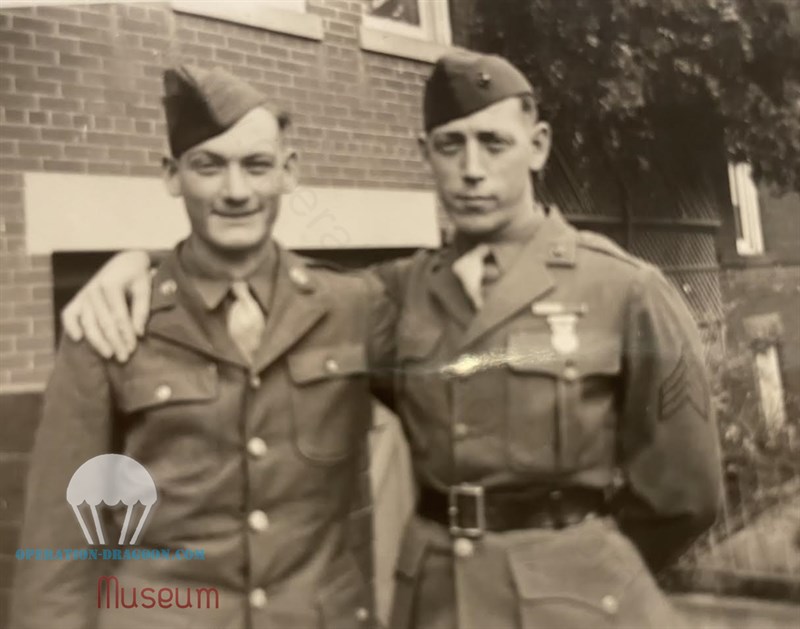 ---
   Morris Swackhammer est né le 12 mai 1924, in Wyalusing, Bradford county, Pennsylvania, de Morris Austin Swackhammer et de Beulah Youngs Swackhammer. Il a grandi avec deux frères aînés et une sœur cadette.
   Le soldat de première classe SWACKHAMMER rejoint l'armée américaine à Binghamton, New York, en 1942. Dans la seconde moitié de 1943, SWACKHAMMER est affecté à la compagnie C, du 1er bataillon, 143e régiment d'infanterie, 36em "Texas" division. Il participe à la campagne d'Italie en 1943 où il est blessé. En août 1944, son unité débarque sur la côte sud de la France dans le cadre de l'opération DRAGOON. Le 1st Bataillon du 143rd Régiment d'Infanterie débarque sur la plage du Dramont, nom de code "Camel Green Beach" à 09h45. Après avoir sécurisé les ports côtiers, la 36em Division progresse vers le Nord par la vallée du Rhône, rencontrant la force d'invasion du jour J avant de se tourner vers l'Allemagne. Le 22 novembre, l'unité de Morris SWACKHAMMER est engagée dans une violente bataille avec les troupes ennemies dans une zone boisée au Nord-Ouest de Fraize, un village des Vosges.  
Ce jour là, le private first class Morris SWACKHAMMER est touché par une rafale de mitrailleuse allemande. Ses camarades, contraints de se replier, sont obligés de le laisser au sol en raison de la puissance de l'attaque ennemie. Après la libération de Fraize, le corps de SWACKHAMMER n'a pas pu être retrouvé par ses camarades, et il est probable que les troupes allemandes ou les habitants de la région de Fraize l'ont récupéré et enterré quelque part.
L'American Graves Registration Command (AGRC le service chargé de retrouver et inhumer les soldats tués) a été chargé de récupérer les restes des militaires décédés sur le théâtre européen après la guerre. À un moment donné en 1945, le personnel américain récupère dans un cimetière de Fraize un corps non identifié, désigné X-756 à Epinal, . Bien que l'AGRC ait pensé que X-756 pourrait être Morris SWACKHAMMER, ils n'ont pas pu confirmer en raison du manque d'informations d'identification dans le dossiers. X-756 sera inhumé au cimetière américain des Ardennes à Neupré, en Belgique.
Après des recherches historiques exhaustives et la corrélation de diverses sources militaires américaines et civiles françaises, les responsables de la DPAA ont conclu que les restes désignés comme X-756 étaient fortement associés à MorrisSWACKHAMMER. Le corps X-756 a été exhumé en juillet 2019 et transféré au laboratoire DPAA à Offutt Air Force Base, Nebraska, pour analyse.
Pour identifier les restes du corp X-756, les scientifiques de la DPAA ont utilisé des analyses dentaires et anthropologiques. De plus, des scientifiques du système d'examen médical des forces armées ont utilisé l'analyse de l'ADN mitochondrial (ADNmt).
Le corp non identifié X-756 est bien celui du Private first class Morris SWACKHAMMER. il sera donc remplacé et  enregistré sur les murs des disparus au cimetière américain d'Epinal, un site de la Commission américaine des monuments de bataille à Dinozé, en France, avec d'autres encore portés disparus de la Seconde Guerre mondiale. Une rosette sera placée à côté de son nom pour indiquer qu'il a été bel et bien été identifié.
Le private first class Morris SWACKHAMMER viens d'être enterré au cimetière national d'Arlington, en Virginie, le 28 juin 2022 exactement un an après  l'identification de son corps, proche de son frère Leon SWACKHAMMER qui a également combattu pendant la Seconde Guerre mondiale avec les Marines. Deux frères séparés depuis 78 ans sont enfin réunis.
Nos remerciements vont à Travis,  petit neveu du soldat Morris SWACKHAMMER, qui nous à contacter et nous à fait l'honneur de nous permettre de rendre un hommage à son grand oncle disparu pour la liberté de notre pays. La nation Française sera reconnaissante à jamais. 
---