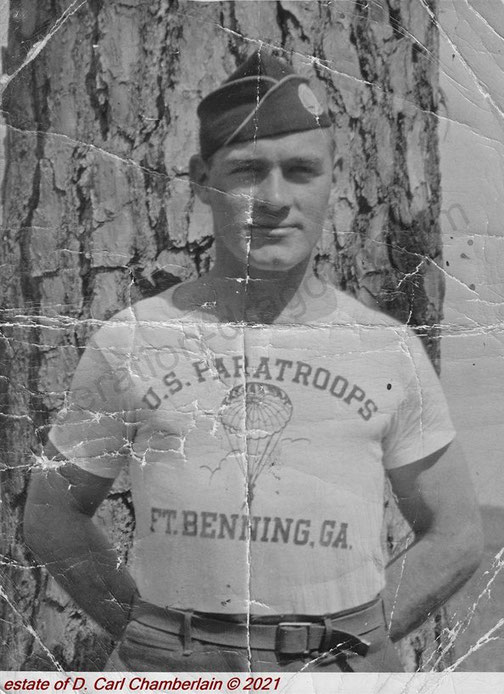 Carl Chamberlain was born July 1st, 1921 in a rural village in the northern Catskill Mountains of New York State and graduated from Draper High School, Schenevus in June of 1940. His father, a postal carrier who had been gassed during WWI while fighting in eastern France, was forced to retire in the 1930s due to chronic lung disease. After graduating from high school, Carl – the oldest of nine children –became the 'breadwinner' for his family, first working as a machinist at Bendix Corporation in Sidney andlater on a survey crew for the New York State Barge Canal Corporation.
Carl enlisted in November of 1942 and volunteered as a paratrooper. He trained at Fort Benning, Georgia and was assigned to the 82nd Airborne's 504th Parachute Infantry Regiment as a mortar-man's assistant. On 29 April 1943 the 504thset sail from New York City for Casablanca, North Africa. They began training around Oujda and Kairouan, Moroccoin preparation for the invasion of Sicily (Operation Husky). Carl made his first combat jump on 11 July 1943 during the invasion of Sicily. His secondcombat jump took place on 13 September 1943 during the invasion of Italy (Operation Avalanche). He also fought at the Battle of Alta Villa and took part in the amphibious assault at Anzio (Operation Shingle). After recovering from injuries he suffered at Anzio, Carl transferred to the 334th Quartermaster Depot Supply Company. Because the 334th QDS Company specialized in aerial resupply, they wereassigned to the First Airborne Task Force in preparation for the invasion of southern France (Operation Dragoon). 
---
While Carl's movements during the late summer and fall of 1944 and his role in Operation Dragoon are still being researched, his photographs shed some light on his journey. One photograph from 16 August 1944 shows Carl standing on an invasion beach (Red Beach) as LSTs 263, 265 and 994 are unloading equipment and supplies. There arephotos of captured German soldiers, liberation celebrations, scenes from everyday life and of the destruction and the rebuilding. These include locations in and around Nice, Valbonne, Cannes, Istres and Marseille.
Following the invasion of southern France, it appears that the 334th QDS Company was assigned to support the US Army's VI Corps as they pursued the German Army up the Rhone River Valley to the Vosges Mountains. His photo collection includes pictures taken at La Loye, Dole, Luneville and Dijon.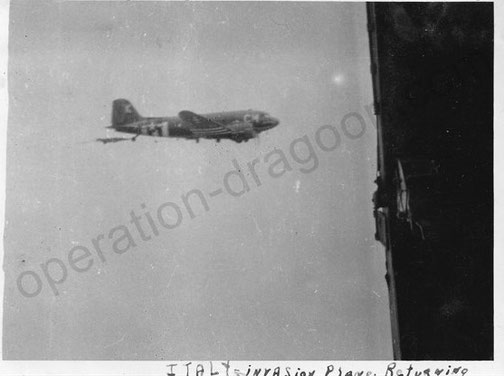 ---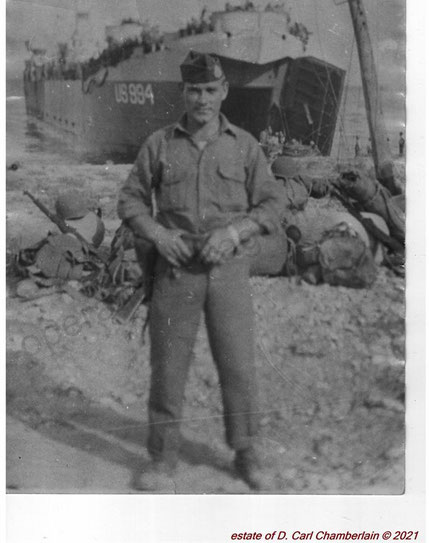 By May of 1945 the 334th was moved to a base at Chateaudun near Paris and then to Chartres. There are pictures of the 334th packing ammunition and equipment for aerial resupply, scenes from daily life at those bases, as well as of soldiers visiting Paris and Chartres.
In the fall of 1945 Carl and other soldiers from the 334th boarded a train for Marseille, where they set sail on troop ships for the Unites States. Discharged in November 1945, Carl went to work for the New York Central Railroad. On one stop-over in Auburn NY he met his wife, Marie. After marrying,Carl took a job there as a maintenance electrician for the American Locomotive Company. He retired in 1982 and passed away a decade later. He was buried with military honors in St Joseph's Cemetery, Auburn NY.
Anyone with information on Carl Chamberlain or the 334th QDS, or anyone with family members who may have served with the 334th QDS in southern or eastern France are encouraged to contact Carl's son Michael at Carl.Chamberlain.WW2@gmail.com or contact our website.
---