I / A landing in Hyères / Un Débarquement à Hyères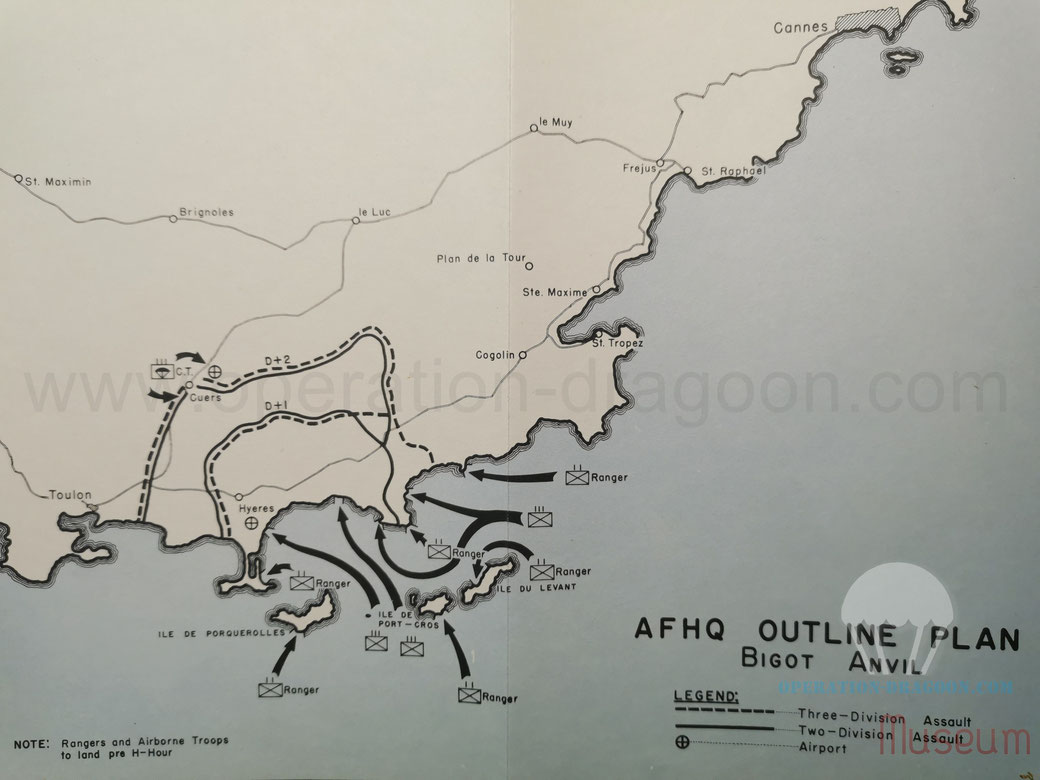 During its request, the AFHQ submits a plan to the 7th Army for study. This plan envisages an assault in the South of France for the month of May 1944, with two to three infantry divisions for the initial assault, and a reinforcement bringing to ten divisions for the push towards the North. The beaches between the peninsula of Giens and Cavalaire sur Mer are selected for the amphibious assault. Rangers are scheduled before zero hour to clear the Hyères islands and the Giens peninsula of its defenses as well as an airborne operation which must take care of securing the town of Cuers and a German airfield, in the purpose of cutting enemy support beaches.
     The operation study group is placed under the command of Brigadier General B.F. CAFFEY, G3, Special Operation, AFHQ, in the absence of General CLARK.
     Brigadier General Garrison DAVIDSON, Army Engineer, joined the group on January 12. This task force will be called "Force 163", and will be joined by officers from AFHQ, transport, and the Air Corps.
     On a large scale, the operation should make it possible to secure the ports of Toulon, Sète and above all Marseille. This initial plan will not be retained, the islands of Hyères proving to be too great a danger to approach the beaches. Other beaches are being studied, those to the east of Cavalaire in particular, and the towns of St Tropez and St Raphaël can be an alternative port pending the liberation of Toulon, well guarded by a succession of forts surrounding the town. .
     Lors de sa requête, le AFHQ soumet un plan à la 7° Armée pour étude. Ce plan envisage un assaut dans le Sud de la France pour le mois de Mai 1944, avec deux à trois divisions d'infanterie pour l'assaut initial, et un renfort portant à dix divisions pour la poussée vers le Nord. Les plages entre la presqu'île de Giens et Cavalaire sur Mer sont retenues pour l'assaut amphibie. Des Rangers sont prévus avant l'heure H afin de nettoyer les îles d'Hyères et la presqu'île de Giens de ses défenses ainsi qu'une opération aéroportée qui doit s'occuper de sécuriser la ville de Cuers et un aérodrome allemand, dans le but de couper les plages de soutien ennemi.
     Le groupe d'étude de l'opération est placé sous le commandement du Brigadier Général B.F. CAFFEY, G3, Special Operation, AFHQ, en l'absence du Général CLARK.
Le Brigadier Général Garrison DAVIDSON, Army Engineer, rejoint le groupe le 12 Janvier. Ce groupe de travail va être baptisé "Force 163", et va être rejoint par des officiers du AFHQ, du transport, et de l'Air Corps. 
     A grande échelle, l'opération doit permettre la sécurisation des ports de Toulon, Sète et surtout Marseille. Ce plan initial ne sera pas retenu, les iles d'Hyères s'avérant être un danger trop important pour approcher les plages. D'autres plages sont à l'étude, celles de l'Est de Cavalaire notamment, et les villes de St Tropez et St Raphaël peuvent être une alternative portuaire en attendant la libération de Toulon, bien gardée par une succession de forts entourant la ville. 
II/ The noose is tightening / L'étau se resserre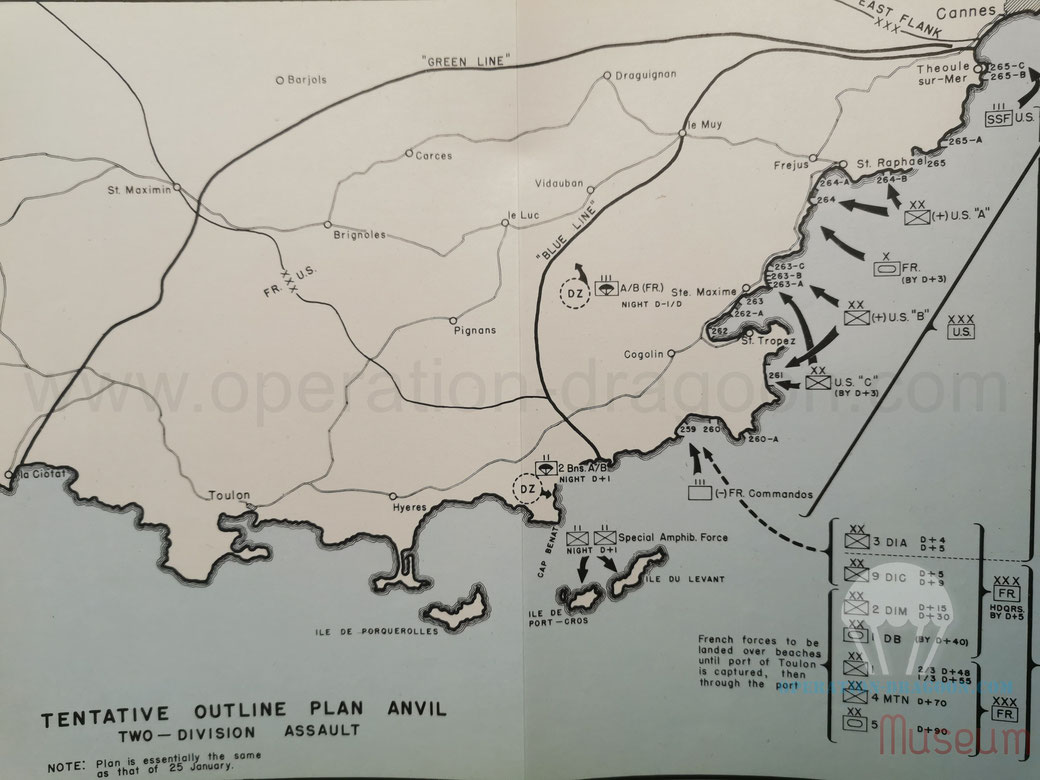 Following these remarks, the plan is revised, and on January 17, a new plan is put on paper.
     Two infantry divisions are planned to land between Cavalaire sur Mer and St Raphaël. Alternatively, amphibious special forces must secure the islands of Port Cros and Levant, two airborne battalions must jump on Cap Bénat, to the east of the device, and a French airborne battalion must jump on the heights of the bay of St Tropez . Finally, the FSSF must land in Théoules, at the western end of the system.
     But these plans are constantly changing, and this is due to several factors: Will there be a second offensive in addition to the Italian campaign? How many French and American divisions will be available? Will another operation in addition to Overlord be launched in Northern Europe?
     These multiple factors will still change the situation, and on January 23 the AFHQ sends a telegram announcing the availability of a third infantry division. At that time, only the 85th Infantry Division was available in Oran, but the 3rd and 45th Divisions had to join it, thus leaving the 5th Army and the Italian front. Generals Henry Maitland WILSON (Supreme Allied Commander) and Sir Harold ALEXANDER (British Commander of the Allied Armies in Italy) refuse. The Italian front cannot be stripped, not until Rome has fallen. ANVIL-DRAGOON must be postponed, at least until July.
     Despite all these constantly changing factors, General DAVIDSON is firm and determined, no matter when or how the landing will take place, he knows where it will take place. On March 1st the Staff met, and on the basis of two divisions, preceding eight others the following days, as well as a sufficient fleet and air and sea support available, the most favorable area for a landing was located at the East of Toulon, between Cap Cavalaire and Agay.
     The following day, General Alexander PATCH becomes the commander-in-chief of the ground forces taking part for Anvil, and validates the plans developed by "Force 163". In the coming months, officers from the Navy, the Air Force, but also British and French officers will be integrated into "Force 163". The normal school of Bouzareah, in Algiers, then becomes a top secret headquarters, surrounded by barbed wire and military police guards.
     On April 29, a complete plan is presented, with plans for both land, sea and air units. Plans for enemy defenses are also under consideration. We now know that the Free French will take a very important part in this landing. On April 15, 1944, General DE GAULLE appointed General DE LATTRE DE TASSIGNY commander of the French forces for Operation ANVIL. Army B is taking shape little by little.
The arrival of the French in the decision-making group of the operation will once again upset all plans. De Lattre will in turn propose his plan.
     Suite à ces remarques, le plan est révisé, et le 17 Janvier, un nouveau plan est mis sur papier.
Deux divisions d'infanterie sont prévues pour débarquer entre Cavalaire sur Mer et St Raphaël. Alternativement, des forces spéciales amphibies doivent sécuriser les îles de Port Cros et du Levant, deux bataillons aéroportés doivent sauter sur le Cap Bénat, à l'Est du dispositif, et un bataillon aéroporté français doit sauter sur les hauteurs de la baie de St Tropez. Pour finir, la FSSF doit débarquer à Théoules, à l'extrémité Ouest du dispositif.
     Mais ces plans changent sans cesse, et cela est du à plusieurs facteurs : Va t-il y avoir une seconde offensive en plus de la campagne d'Italie ? Combien de divisions Françaises et Américaines seront disponibles ? Est-ce qu'une autre opération en plus d'Overlord va être lancée dans le Nord de l'Europe?
Ces multiples facteurs vont encore faire changer la donne, et le 23 Janvier le AFHQ envoie un télégramme annonçant la disponibilité d'une troisième division d'Infanterie. A ce moment là, seule la 85° Division d'Infanterie est disponible à Oran, mais les 3° et 45° Divisions doivent la rejoindre, quittant de ce fait la 5° Armée et le front Italien. Les généraux Henry Maitland WILSON ( Supreme Allied Commander ) et Sir Harold ALEXANDER ( british commander of the allied armies in Italy ) refusent. Le front Italien ne peut être dégarni, pas tant que Rome n'est pas tombée. ANVIL-DRAGOON doit être  repoussée, au moins jusqu'à Juillet.
     Malgré tous ces facteurs changeant sans cesse, le Général DAVIDSON est ferme et décidé, qu'importe quand ou comment le débarquement se fera, il sait où il se fera. Le 1° Mars le Staff se réunit, et sur la base de deux divisions , précédent huit autres les jours suivant, ainsi qu'une flotte suffisante et un appui aérien et maritime disponible, la zone la plus favorable à un débarquement se situe à l'Est de Toulon, entre Cap Cavalaire et Agay. 
     Le jour suivant, le General Alexander PATCH devient le commandant en chef des forces terrestres prenant part pour Anvil, et valide les plans mis au point par la "Force 163". Dans les mois à venir, des officiers de la Navy, de la Air Force, mais aussi des officiers Britanniques et Français vont être intégrés dans la "Force 163". L'école normale de Bouzareah, à Alger, devient alors un quartier général top secret, entouré de barbelés et de gardes de la police militaire.
     Le 29 Avril, un plan complet est présenté, avec à la fois les plans des unités terrestres, maritimes et aériens. Les plans des défenses ennemis est aussi à l'étude. Nous savons maintenant que les français libres vont prendre une part très importante dans ce débarquement. Le 15 Avril 1944, le Général DE GAULLE nomme le Général DE LATTRE DE TASSIGNY commandant des forces Françaises pour l'opération ANVIL. L'Armée B se dessine peu à peu.
L'arrivée des Français dans le groupe de décision de l'opération va une fois de plus chambouler tous les plans. De Lattre va à son tour proposer son plan.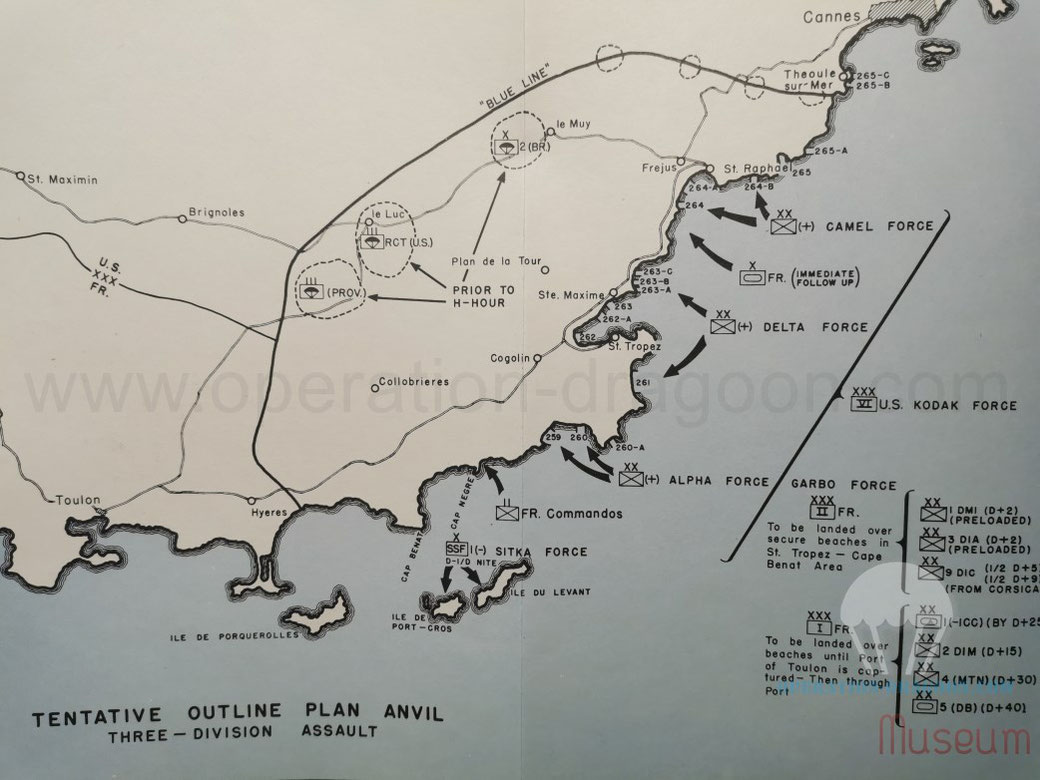 III / The "French" touch / Le plan "De Lattre"
     The first week of May, General DE LATTRE proposes his plan to General PATCH and "Force 163".
     He supports the importance of the ANVIL operation, which would allow the French forces to take an important part in the liberation of their country, while OVERLORD provides only a few French troops. DE LATTRE plans an assault by three infantry divisions and two armored divisions.
     This increase in available ground forces will push General DE LATTRE to enlarge the assault zone.
     He wants a landing east of Toulon, as planned by the AFHQ, but also west of Toulon.
However, his plan has flaws, as General PATCH points out. Air and naval support would be reduced over such a wide area, as well as the ability for the allies to create a bridgehead to land all the equipment necessary to pursue the objectives. In addition, a strong enemy concentration and solid coastal defenses west of Toulon are known to the Allied headquarters. A common ground is finally found. Army B will be separated into two corps, and one of these two corps will be part of the assault on D Day. DE LATTRE will be the sole commander of these two corps, the beaches will remain those previously planned, between Cavalaire and Agay. The president of the National Liberation Committee, General DE GAULLE, approves of this decision.
     La première semaine de Mai, le Général DE LATTRE propose son plan au Général PATCH et à la "Force 163". 
     Il appui l'importance de l'opération ANVIL, qui permettrait aux forces Françaises de prendre une part importante dans la libération de leur pays, alors qu'OVERLORD ne prévoit que peu de troupes Françaises. DE LATTRE prévoit un assaut par trois divisions d'infanterie et deux divisions blindées.
     Cette hausse des effectifs terrestres disponibles va pousser le Général DE LATTRE à agrandir la zone d'assaut.  
     Il souhaite un débarquement à l'Est de Toulon, comme prévu par l'AFHQ, mais aussi à l'Ouest de Toulon. 
Son plan possède cependant des failles, comme le pointe le Général PATCH. Le soutien aérien et naval serait réduit sur une zone aussi large, ainsi que la capacité pour les alliés de créer une tête de pont pour débarquer tous le matériel nécessaire à la poursuite des objectifs. De plus une forte concentration ennemie et des défenses côtières solides à l'ouest de Toulon sont connues de l'état major allié.   Un terrain d'entente est finalement trouvé. L'armée B sera séparée en deux corps, et un de ces deux corps fera partie de l'assaut le D Day. DE LATTRE sera seul commandant de ces deux corps, les plages resteront celles prévues au préalable, entre Cavalaire et Agay. Le président du comité national de la libération, le Général DE GAULLE, approuve cette décision.