Private Elmer J. ANDERSON was born on July 1, 1923 in  Philadelphia, Pennsylvania, USA.
He enlisted his home town and was volunteer for parachute training. Aftern being graduated  he was attached to 3frd battalion,  517th Parachute Infantry Regiment, 17th Airborne Division.
 After participate to the Italian campaign with his band of brothers, he took part to the  operation Dragoon.
Elmer was dropped on the early hour of the 15th of august 1944 between the villages of La Motte and Les Arcs.  with his platoon, his mission was to attack a strategic point near an enemy fuel depot, at the main crossroad going from the beaches inland to Draguignan South to East, and from La Motte landing Zone to Les Arcs Ste Roseline 517th HQ.
During this attack Elmer ANDERSON was killed in the very first hour. He was awarded the Silver Star posthumously for his action that day.
Elmer is buried at American Rhône cemetery in Draguignan. Southern France.
Plot D / Row 5  / Grave 14.
---
    Le parachutiste Elmer J ANDERSON est né le 1er juillet 1923 à Philadelphie, en Pennsylvanie.. Il est mobilisé en 1943 et se porte volontaire pour les troupes aéroportées.
    Il sera rattaché au 517em Regiment parachutiste de la 17th Airborne Division.
   Après avoir participé à la campagne d'Italie avec ses frères d'armes, il prend part à l'opération Dragoon et est parachuté dans les premières heures de ce 15 août entre Le Motte et Les Arcs sur Argens. Avec son peloton, il a pour mission d'attaquer , anéantir le le dépot réserve de carburant allemand qui ravitaille les convoies ennemis du Nord au Sud. Il est situé au carrefour stratégique de La Motte / Ste Roseline, de l'Est à l'Ouest, et Ste Maxime à Draguignan entre le Sud et le Nord.  
Malheureusement, le dépôt est bien tenu, des postes de mitrailleuse, et un canon antiaérien type Flak36. Elmer ANDERSON est touché mortellement au levé du jour. Ses camarades réussissent dans la matinée à venir a bout de la défense Allemande et prennent le contrôle du carrefour de Ste Roseline.
Pour cet acte de combat Elmer ANDERSON sera décoré à titre posthume de la Silver Star. Son corps repose au cimetière Américain de Draguignan. section D, rangée 5,  tombe 14. 
qu'il repose en paix, et n'oublions jamais son sacrifice pour notre liberté.
---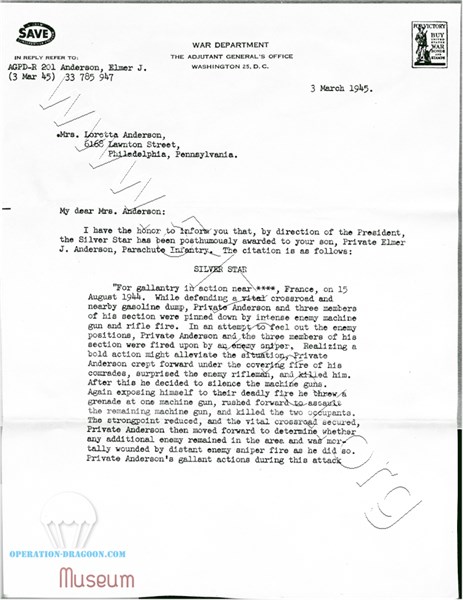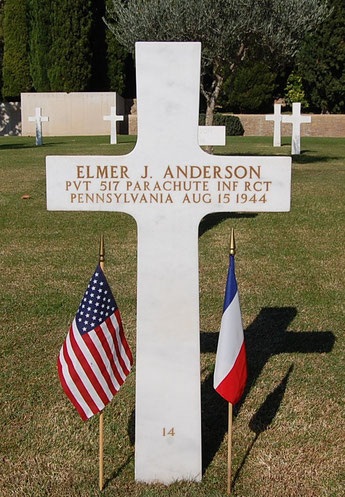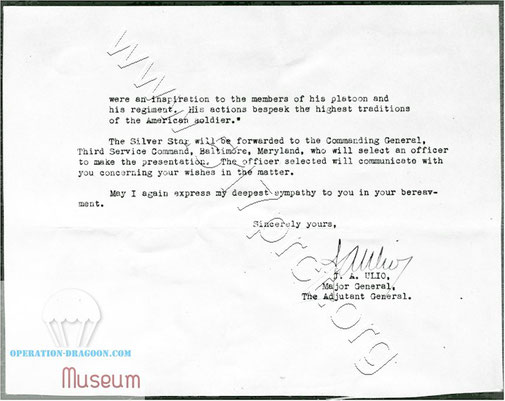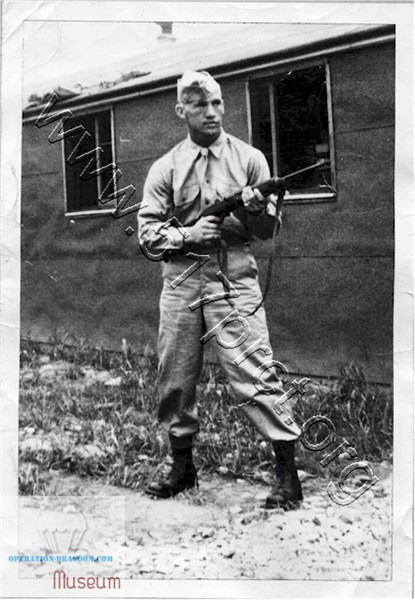 ---
Remerciement son neveu John et à Ben BARRET de l'association du 517em parachute combat team.