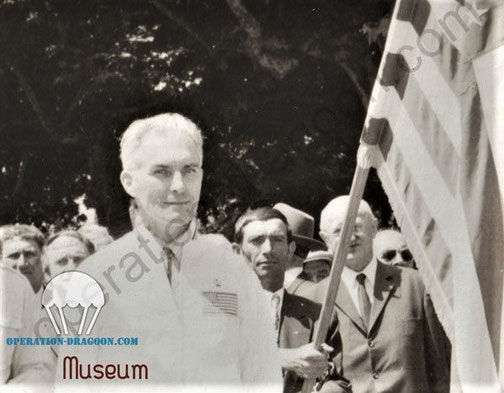 WILLIAM J. NICKERSON JR., joined in 1943 Fort Benning Georgia, parachute training base and was assigned to Co. D. 513th PIR (Capt. Morris ANDERSON commander ) and was transferred to Alabama area. I st Bn. Special Service( Lt. Bob KERR). 
He Volunteered for overseas duty and assigned to 1st Batallion 517th parachute infantry regiment , Medical Section under command of Captains Ben SULLIVAN and Captain. O'MEARA, medical officers .
The unit was preparing for overseas duty at Ft. Bragg. From Hampton Roads,  he was sailed on victory ship named « Santa Rosa » arriving at Naples. Italy. June 1943.
Experienced combat in Italy as medic, The 517 took part to the invasion of Southern France on august 15th 1944 . At about 4.30am, Bill NICKERSON and the men of the 1st Bn was scattered in vicinity North of the town of Les Arcs, France. 
On that early morning, Bill NICKERSON was the first paratrooper to make contact with French resistance fighters under command of commander Jean Marie BLANC. As the town was in germans hands and Bill was the only and first trooper have been hide in a cellar under some barrels. When the daylight came, other paratroopers from William BOYLE 1st battalion arrived in the town and Bill NICKERSON joined the group to be ready for first counter attack. He rapidly organised a aid-station near the school for the first wounded in action. 
With his outfit he moved to the riviera and then the Italian Border.  Bill was on the first unit conducted a holding position in vicinity of Sospel. When relieved by a new infantry unit they moved by 40/8 to Soissons, and immediately was called into the "Battle of the Bulge." Following hospitalization in Liege and Paris, Bill NIKERSON was reassigned as medic at Thionville to Germany with aviation combat unit and later on special assignment in St. Gervais les Bains for 8th Air Wing R & R. He was relieved for discharge at Ft. Dix. NJ. following return trip aboard Aiken Victory as editor of ship's newspaper. 
In 1971 Bill returned to visit with people of  Les Arcs who shared an experience of naming their liberation occasion to a Franco-American celebration. For a number of years 1971-81 he was hosted by the families in France. Took part in Liberation Day activities. 
Bill NICKERSON was named first honorary citizen of Les Arcs and Honorary member of French Resistance and was able to arrange hospitality visits by 517th vets to the town they liberated Aug. 15, 1944. He went to business college on the GI Bill in Spencer NJ. Married Amy, has one daughter, Helana, and grand-children, Ashley, Randell and Dougie. Retired from Ciba Geigy in 1981.
After our first exibit dedicated to the Southern France landing, we came in touch with him. Bill was so happy to see the legacy of the 517th and his action was alive after all these years.
He never stopped been in corespondances until the rest of his life. We are so happy and proud to dedicate this page to him.