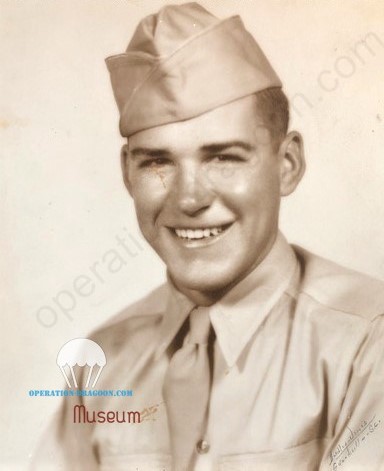 Engagé à 19 ans, il se porte volontaire pour les parachutistes et rejoint le 517em régiment aéroporté Américain en 1943. Après la dure formation aéroportée en Géorgie , avec son unité, il part pour combattre en Europe, débarque à Naples en mars, où il fait son baptême du feu.  Début aout 1944, il est regroupé aux environs de Rome pour la préparation du débarquement de Provence. 
La nuit du 14 vers minuit, il embarque dans les vagues d'avions Dakota et sera parachuté à 5 heures du matin.  Il est parachuté dans la vallée de la Nartuby, et rejoint son objectif avec ses camarades du peloton de mortier lourd du 517em. Le rocher de Roque Rousse. Vers midi,  ses mortiers sont opérationnels et protègent tout mouvement ennemi le long de la nationale et le pont des Gachettes au Sud des Arcs sur Argens. 
Après les Arcs , avec son unité il progressera vers les alpes maritimes pour les combats frontaliers aux environ de Sospel et de Peira-Cava.  
Born June 2, 1923 in St. Paul, MN , when he was just 19 years old, Robert Webber began his training to become a paratrooper of the 517th Parachute Infantry Regiment, which played a major role in the campaigns that led to the victory over the German Army in World War II. Webber began his initial training in March of 1943 at Camp Toccoa in Georgia.
After completing basic training at Camp Toccoa ( which included special seven mile runs up Mount Currahee carrying his rifle, parachute and full field pack containing everything from a gas mask to a sleeping bag to provisions)  the young private headed to Fort Benning for parachute training. There, the soon to be paratroopers started by jumping off small towers of 36 feet, sliding down a rope and learning to tumble. They jumped off towers of increasing height day by day. "To get our wings, we had to do five jumps," "When we jumped, we had a static line. When we stood up, there was a cable running the full length of the plane. Then we'd hook ourselves up and check that everything was all right with the guy in front of us and the guy behind would check us. Then the chute would open with the ripcord." Webber finished his yearlong training period by practicing combat maneuvers at Camp Mackall in North Carolina and participating in a kind of practice war complete with live fire and 24-hour marching in Tennessee before heading overseas. "Once we were there, we just tried to stay alive," Webber said.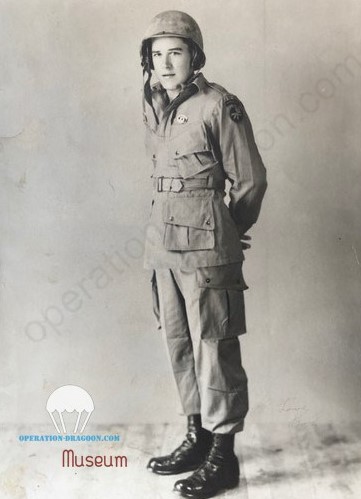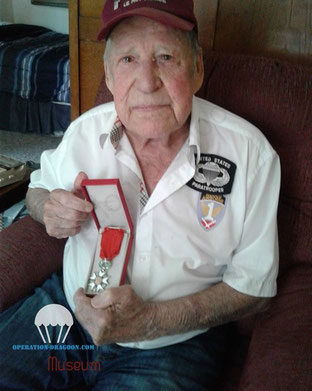 Robert Weber contractera une terrible malaria et devra être évacué puis rapatrié aux Etat Unis.
Chauffeur de bus de retour à la vie civile dans le Wisconsin, en 2016 il décida de revenir en Provence avec  son fils. Son état de santé s'étant dégradé, il n'as pas pu nous rejoindre pour les commémorations du 75em anniversaire. En contact permanent jusqu' a ses derniers jours avec ses amis de Provence , il gardait un souvenir mémorable de la gentillesse et l'accueil des Arcois en 1944. 
Robert Weber s'est éteint dans son sommeil  le 25 février 2021 . 
Médaillé de la Bronze star, de la purple heart, de la presidential unit citation du combat infantry badge et good conduct medal. L'ambassade de France le fera chevalier de la légion d'honneur pour reconnaissance a notre pays. 
The regiment landed in Naples, Italy on March 31, 1944. Two to three weeks later, Webber went on his first excursion to fight the Germans. His first battle remains clear in his memory. "We were walking up a mountain in Italy with the Germans coming up the other side, and we met on top," he said. "I was in the mortar platoon, and bullets were flying all around. Our platoon had to move back because we were too close to drop our shells. Then we started pushing the Germans back — or they started running." Webber's regiment also participated in the famous Battle of the Bulge. But Webber was not among his comrade because he had come down with malaria the day they were set to leave. "I ended up in the hospital three times with malaria – in the middle of winter," he said. "I wanted to go, but they kept putting me back in the hospital." The 517th also played a crucial role on D-Day. Webber was among the thousands of paratroopers making up the four battalions to jump behind enemy lines in Normandy, and was himself on the line for days without relief. "We jumped on Aug. 15 at five o'clock in the morning," Webber reminisced. "It was dark and foggy, and we missed our objective landing zone. My outfit missed theirs by five miles, but the third battalion missed it by 25." The paratroopers jumped from a low level of 400 feet so as not to get caught up in midair crossfire. Missing their drop zone was unfavorable, but did not stop the paratroopers from their objective of sandwiching the enemy between themselves and the troops who came up from the coast's shoreline. "We jumped real low," Webber said. "I remember hearing noises that sounded like water, but it was people hitting brush and trees. I was lucky — I just landed in short brush, and I got out of the chute and started trying to find the other guys. A whole bunch of us got together and took off toward our objective, which was one side of a hill right off of a town. After almost a month later, they were still pushing up." The siege was finally over after 51 days of continuous fighting, and on Oct. 23, 1945, Webber came home. 
---
He was awarded of a Bronze Star, a Purple Heart and a parachutist badge, along with a Presidential Unit Citation, a Medal of Honor Airborne and medals for Good Conduct and Marksmanship and receive the French "Chevalier" of the Legion of Honor. Bob WEBBER passed away peacefully in his sleep on February the 25, 2021.
---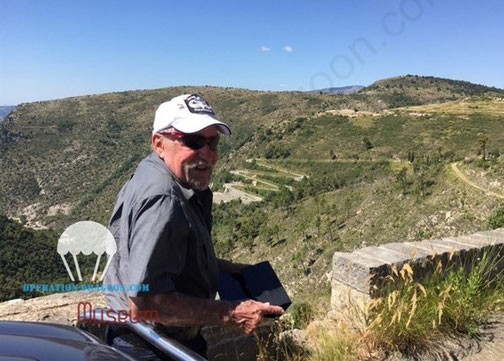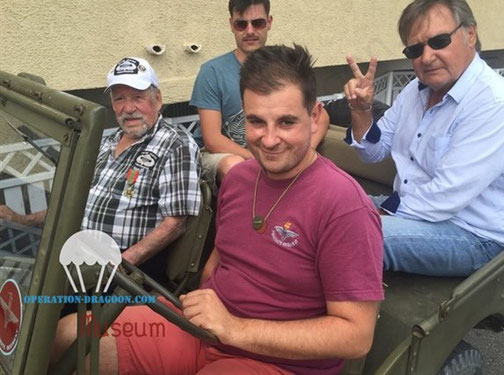 ---
Sources : operation-dragoon. com archives. 
courtezy of Robert and Bruce WEBBER 
517th.org.