Il fut connu par une célèbre photo du débarquement de Provence, qui illustre pour la plupart des livres d'histoire la progression des allées dans le Sud. 
le parachutiste américain John JEWELL,  du 517em régiment aéroporté , de la compagnie "F" du  2em bataillon , 
Ci dessous la photo de gauche, est la plus connue, à droite, bien plus rare un plan fait le même jour par le
reporter des armées.
He was known by a famous photo of the southern France landing , which illustrates for the most in the history books the 15th of august "D" day.
The American paratrooper John JEWELL, of the 517th airborne regiment, of the company 'F' of the 2nd battalion have to be honorated on our website. 
Below the photo on the left is the well known, on the right, much rarer a other picture the same day by the army reporter .
---
Né le 16 octobre 1922, à Stillwater, dans le Minnesota, John L. JEWELL  rejoint le service des armées le 13 avril 1943, volontaire parachutistes, il effectue rapidement la formation de tireur au fusil et à la carabine, il sera promus Staff Sergent, et deviendra commandant de Squad au sein de la compagnie F du 517em régiment aéroporté. Il débarquera avec son régiment en Italie le 31 mai 1944, après quelques semaines de premiers combats, la préparation pour le débarquement de Provence s'organise sur les bases aériennes près de Rome. Parachuté le 15 août 1944 sur le village de la Motte. Dès les premières heures avec son Squad il va mener des patrouilles de reconnaissance vers la Drop Zone "A" et Sainte Roseline, ce qui sera immortalisé par un reporter des Armées sur la route départementale à L'Est de la Motte.
Born on October 16, 1922, in Stillwater, Minnesota, John L. JEWELL joined the army on April 13, 1943, volunteer for paratrooper , he quickly completed training as a rifle and carbine qualification, he was promoted Staff Sergeant, and became Squad leader on F company, 517th parachute infantry regiment . He landed with his regiment in Italy on May 31, 1944, after few weeks of  battle, he moved to  air bases near Rome training to prepare the Airborne side of operation Dragoon. Parachuted on the early morning of the August 15, 1944 close to the village of La Motte. From the first hours with his Squad he will lead recon patrols on Drop Zone 'A' and Sainte Roseline casttle, the presumated 517th head quarter,  which will be immortalized by an Army reporter on that small road Est of La Motte.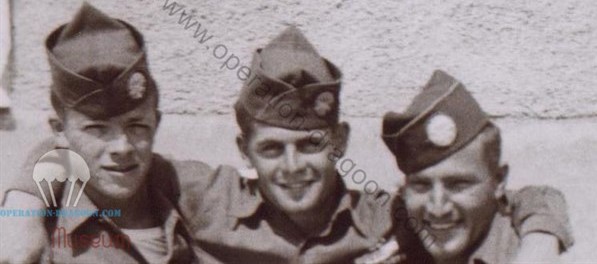 ---
Il prendra part par la suite aux combats de frontière Italienne dans les alpes maritimes, puis la bataille des Ardennes ou il sera blessé à 2 reprises. 
He will then take part of the terribles fights of the battle along the Italian border in the maritime Alps, then  will moved north with his outfit for the Battle of the Bulge where he will be wounded twice.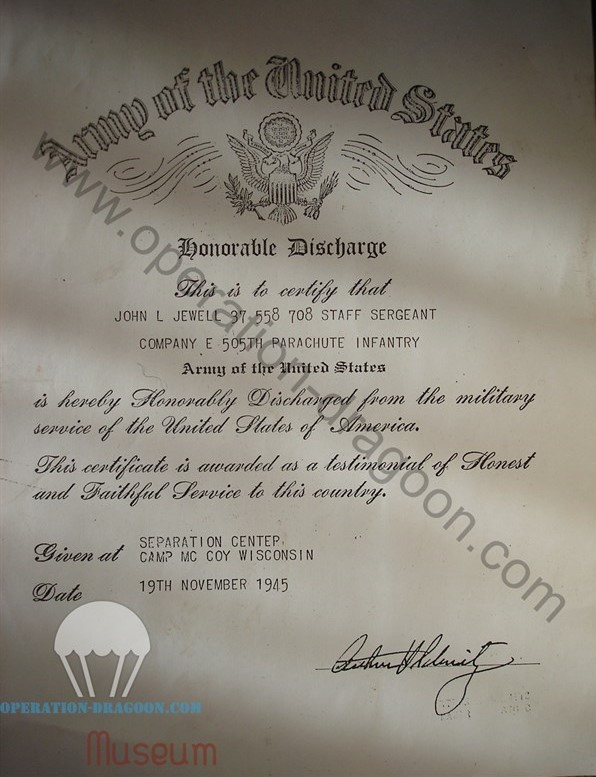 Aprés la disolution du 517em régiment d'infanterie , John JEWELL sera versé au sein de la compagnie "E" du 505em régiment de la 82em airborne division en mai 1945, dans le plan des forces alliées en Allemangne et rentrera aux Etats unis en Novembre de la même année.
After the dissolution of the 517th infantry regiment, John JEWELL will be transferred to company 'E' of the 505th regiment of the 82nd airborne division in May 1945, in the plan of the Allied forces in Germany and will return to the United States in November of the Same year.
John attended many reunions of the association and we spend wonderfull time with him and his band of brothers of "F" company.
---