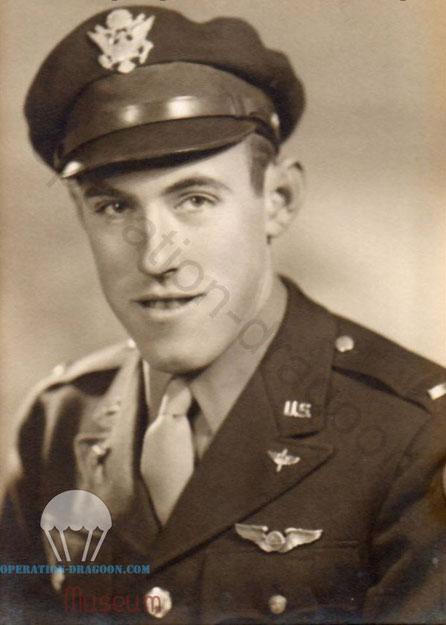 Eugene  WATERFILL was born on the 20 of november 1920 . He attended Anderson County one room schools including Cedar Grove, Bonds Mill and Salt River thru the 8th grade; graduating from Lawrenceburg High School in May 1939.  He worked various jobs around the area until July 1942 when he enlisted in the Army Air Corps as an Aviation Cadet.
In September 1943, he completed Navigator training at Selman Field in Monroe, Louisiana. He arrived in the European Theater of Operation, with the 435th Troop Carrier Group in November of that same year. He was selected to be a Group Navigator. As Group Navigator he flew 13 combat missions.  These included the D-Day invasion of Normandy, invasions of Southern France, Holland and Germany and the Battle of the Bulge.
 He dropped airbornes troops of the 101st division in the June 6, 1944 D-Day invasion of Normandy but also in Southern France the second "D" day on the 15th of august , in Holland for operation Market Garden and Germany for operation Varsity with the 76th troop carrier squadron.
He returned to the States in July 1945 to marry his high school sweetheart, Hazel Marie McGreevy.  They had five children. They were married 47 years before her death in January 1993. 
He elected to stay in military service as the Army Air Corp became the United States Air Force.  After additional training at Randolph Air Force Base, San Antonio, Texas and Barksdale Air Force Base near Shreveport, Louisiana, he became a Pilot in 1948.  As he worked various Procurement assignments and completed his college education, he and his family lived in Virginia, Florida, South Carolina, Texas, Tennessee, Nebraska, Pennsylvania, Ohio, Georgia and California.There was also one year (1952-1953) overseas in Korea. His last active duty assignment was Chief of Procurement and Production for the Minuteman III Missile program at Norton Air Force Base, San Bernardino, California, after which he retired and returned to Marietta, Georgia with his family in August 1968.
After he retired from the Air Force  with the rank of Colonel,  he worked at Lockheed Martin as the plant rep until his retirement. He lived a rich and fulfilling life and had a positive impact on many lives through his kindness, generosity and devotion to his family and friends. Colonel Eugene A. Waterfill,  passed away peacefully at the age of 95 at his home of Marietta, Georgia on Monday, August 8, 2016. 
In 2012, a old farmer from Les Arcs, southern France came to us with a life Preserver buoy that he found in 1944 in a American CG-4A glider landed on landing zone "A" when he was 12 years old aged after the airborne operation.
When he heard that we were honoring WWII veterans on the museum web site he presented this old life preserver. 
After cleaning it appear that this buoy was belonged to Eugene WATERFILL when he was a young first lieutenant.
The possibility of finding this equipment in the landing Zone was normally impossible. The only way we supposed is that Eugene WATERFILL gave his life preserver to a young infantry man before he boarded in a glider on the Italian airbase on the 14th of August 1944.
Internet is a wonderful opportunity of doing some research and  on the 4th of January 2020 we came in touch with his family and his great granddaughter Kaylee and through her, Gene WATERFILL daughter.
Thankyou both for helping perpetuate his memory, and also Albert, our friend that safe his buoy all these years.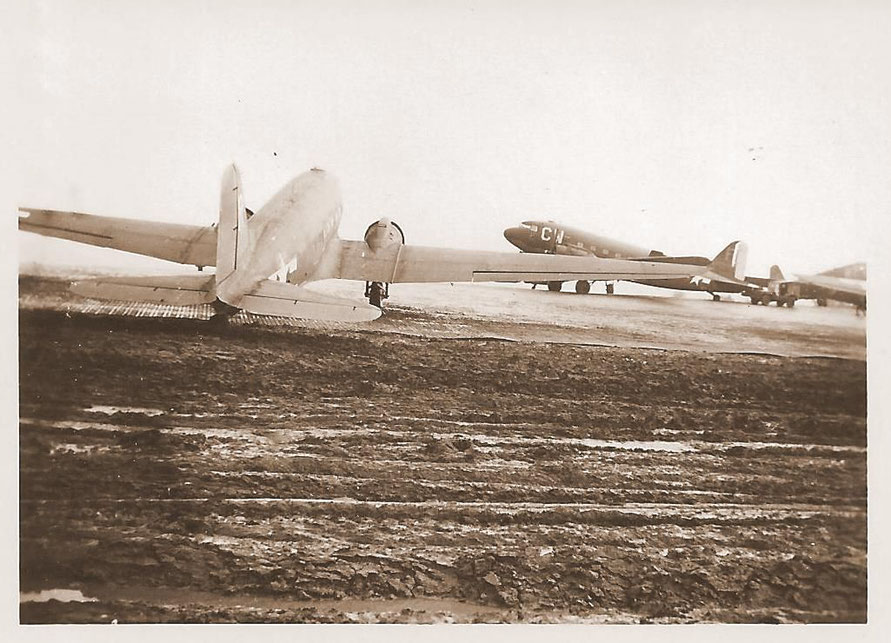 C47 airplane from the 76th Squadron on a base before take off.
---
The 76th left the United States in October 1943, arriving at RAF Langar, England, in early November. On arrival, it began training for participation in the airborne operation over Normandy. The squadron flew its first combat missions on D-Day by dropping paratroopers of 101st Airborne Division near Cherbourg. The unit towed Waco CG-4A and Airspeed Horsa gliders carrying reinforcements to the same location that afternoon and on the following morning. The squadron received a Distinguished Unit Citation for its part in Operation Overlord, the Normandy invasion.
The squadron began transport services following the landings in France and intermittently engaged in missions of this type until V-E Day In these operations the 76th hauled supplies such as serum, blood plasma, radar sets, clothing, rations, and ammunition. It also evacuated wounded personnel to Allied hospitals. 
The squadron interrupted these supply and evacuation missions to train for and participate in three major airborne assaults. It was part of a detachment of three squadrons from the 435th Group that moved to Tarquinia Airfield, Italy in July 1944 for Operation Dragoon, the invasion of Southern France.
The detachment dropped paratroopers over the assault area on 15 August and also released gliders carrying troops and equipment such as jeeps, guns, and ammunition. The following day it flew a resupply mission over France, then transported supplies to bases in Italy before returning to England at the end of the month.
In September 1944 the squadron participated in Operation Market Garden the unsuccessful airborne operation intended to seize bridges across the Meuse River in the Netherlands, dropping paratroops of the 82d and 101st Airborne Divisions and releasing gliders carrying reinforcements. During the Battle of the Bulge, the unit delivered supplies to isolated combat positions of the 101st Airborne and 7th Armored Divisions in Bastogne and Marcouray, Belgium.
The unit moved to Bretigny Airfield, France in February 1945 to prepare for Operation Varsity, the airborne assault across the Rhine River. Each squadron aircraft participating in this operation towed two gliders transporting troops and equipment to the east bank of the Rhine near Wesel on 24 March. The unit then flew resupply missions to Germany in support of ground forces.
The squadron transported supplies to occupation forces in Germany and evacuated Allied prisoners of war after V-E Day. The squadron and the 435th Group returned to the United States in August and the group was inactivated on 15 November 1945.