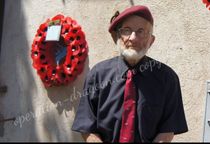 Repose en Paix Peter. tu t'en es allé en ce 15 janvier 2019 avec la discrétion qui te caractérisait..  un père un grand père un ami... si cher à nos coeurs modeste héro de la bataille de Provence. Parachuté dans la première vague d'éclaireurs Britanique du 2em peloton indépendant. Nous pourrions ecrire des pages en ton honneur mais nous savons que tu ne l'aurai pas souhaité ..fidèle à la mémoire de tes frères d'armes plus de 25 ans que tu revenais au Mitan et à la Motte te souvenir et rendre hommage sur la terre que tu avais libéré cette nuit du 15 août 1944. ta mémoire restera gravée dans l'histoire de Provence mais surtout a jamais gravée dans nos coeurs. son incroyable histoire a lire et relire.
Adieu Peter.
 He was one of the last hereo of the battle of Southern France. one of the last British parachute pathfinders landed in Le Mitan. la Motte on the first wave. Peter Block passed a way on this 15 th of january 2019. he will always host a huge place in our heart and for ever in the southern France landing history. 
rest in peace dear Friend. we always love you.
https://www.operation-dragoon.com/2018/09/27/block-peter-2nd-independent-parachute-brigade-1st-independent-pathfinder-platoon/