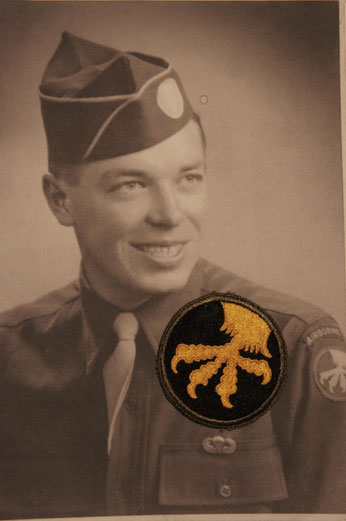 Robert T. Dodds was Born the 18th of march 1923 in  Brooklin . New York. At age of 20 he joined the army on February the first 1943 .  After 3 month at fort Benning Georgia at the parachute school and basic training he became part of the 517th parachute infantry regiment he specified as rifle man shooter and was then attached to light Mortar platoon.  He left USA by boat to Europe in may the 17th 1944, arriving Italy the 31 of that month he took part with his unit to the Italian campaign where he was awarded of the Combat infantry Badge on the 8th of July . At the end of july he moved to a airforce base near Rome where he trained and learned about a Airborne invasion jump. On the first hours of the 15th of august 1944 he jumped as Sergeant squad leader in the Vicinity of La Motte, at few meters from a german Gasoline depot near Ste Roseline . He took part to all th battle along the Southern France, all along the Italian border in the Maritimes Alps north of the city of Nice. then was moved to the terrible battle of the buldge fall 1944, winter 1945. He was then attached to G company of the 505 th parachute regiment of the 82nd Airborne division. He was discharged on november the 18th 1945 with rank of sergeant in Fort Dix. New Jersey.
Sergeant Robert T. DODDS was awarded of the American Service medal. Bronze star Medal. Good Conduct medal. Purple heart medal with oak leaf. and European.African midle eastern Campaign medal.
After the was Bob came back to civil life and tried to survice to traumatism effect of the was but never been able to .
He took his life in the 60's when his son Bob Dodds junior was 10.
Bob Dodds Junior and his wife Patricia came in touch with us in the early 2000 and became friends as a family. they are coming regulary in France to honnor Sergeant Robert T. Dodds action and sacrefice.