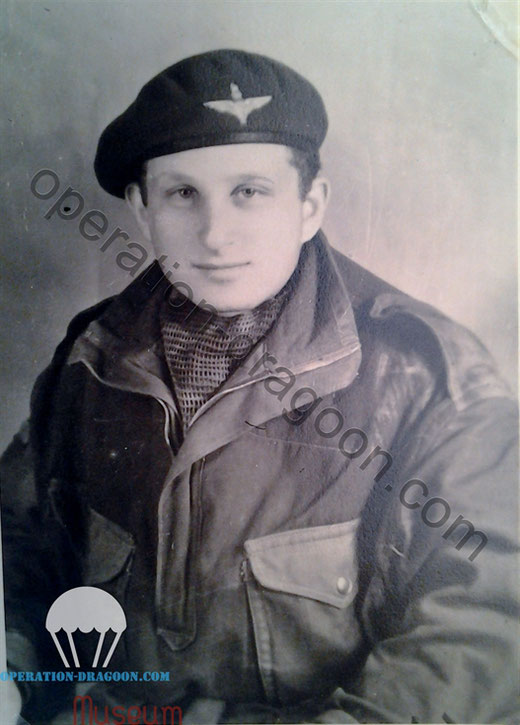 Peter BLOCK est né le 22 juin 1922 à Francfort ( Allemagne ). De religion juive, sa famille décide de quitter l'Allemagne d'Adolf Hitler, et rejoint l'Angleterre. 
Il suit des études comme tout enfant anglais dans l'école d'Amesbury (Hindead), puis à Mill Hill School (NW7).
Il s'engage dans l'armée à Liverpool le 1er Novembre 1940, et sert dans les pionniers, au 246th , 251th et enfin au 249th (Alien) Coys. Cette dernière compagnie est composé de soldats d'origine allemande et de religion juive, c'est là qu'il va faire la connaissance de Mickael COMPTON lui aussi allemand de religion juive. Tous deux vont lier des liens d'amitiés très forts et serviront dans les même unités tout au long de la guerre. 
 Peter BLOCK was born on June 22, 1922 in Frankfurt (Germany). Of Jewish religion, his family decided to leave  Germany of Adolf Hitler, and join England.
He studied  in the school of Amesbury (Hindead), then at Mill Hill School (NW7).
He enlisted in the army in Liverpool on November 1, 1940,
and served in the Pioneers, 246th, 251st and finally the 249th (Alien) Coys. This last company was composed of soldiers of German native and  Jewish religion,there he will makemet Mickael COMPTON also German of Jewish religion.
that day will born a very strong friendships and they will serve in the same units throughout the war.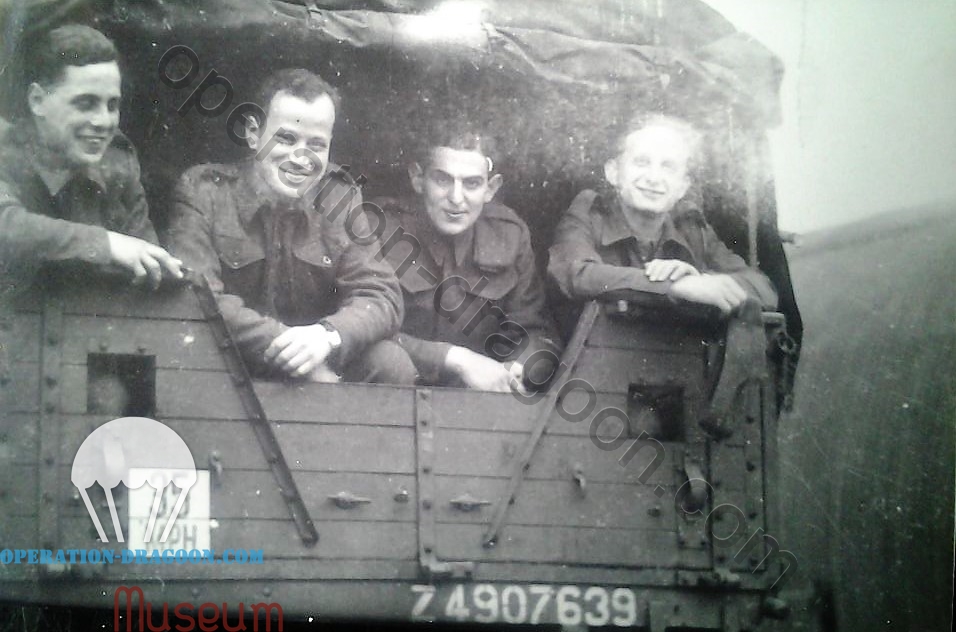 En Mai 1943, Peter et Mickael décident de se porter volontaires pour les troupes aéroportées. Une unité en particulier est intéressée par leur origine, et leur connaissance de la langue allemande, la 21st Parachute Pathfinder Company. Ils rejoignent l'unité au camp d'entrainement de Bullford. La compagnie va ensuite être transférée à Hardwick Hall, Ringway, Tisbury et enfin Chilton Foliat.
L'unité est appellée à servir en Afrique du Nord, le 21st va tout d'abord passer par l'algérie puis par la tunisie, sans vraiment connaitre de baptême du feu. l'unité passe son temps dans des énormes camps à suivre des entrainements trés difficiles en zone aride. 
In May 1943, Peter and Mickael decided to volunteer for the airborne troops. One unit in particular is interested in their  german origin, and their knowledge of the German language, the 21st Parachute Pathfinder Company. They joined the unit at the Bullford training camp. The company will then be transferred to Hardwick Hall, Ringway, Tisbury and finally Chilton Foliat.
The unit is called to serve in North Africa, the 21st will first go through Algeria and then Tunisia, without really experiencing a baptism of fire. the unit spends its time in huge camps undergoing very difficult training in the arid zone.
En septembre 1943, Peter Block et son unité débarquent à Taranto (Italie) et connaitront leur baptême du feu dans de violents combats autour de Bari. En novembre, la 2nd Independent Parachute Brigade est crée à partir d'unité de la 1st Airborne Division. Le 21st Parachute Pathfinder Coy va se séparé d'un de ses platoon, pour créer le 1st Independent Pathfinder Platoon. Composé de membres du 21st, les rangs vont être étoffés par des hommes des 3 bataillons d'infanterie de la brigade, le 4th Battalion, le 6th  Battalion et le 5th Battalion.
 Dans la foulée, l'unité va être transférée en Sicile et rattachée au 51st troop carrier Wings américain, afin de réaliser un entrainement combiné, les spécialisants dans le marquage de drop zones et landing zone pour les équipages américains. A la suite de 5 mois d'entrainements intenses en Sicile, Peter Block et ses camarades du peloton d'éclaireurs rejoignent l'Italie, et la 21nd Brigade prés de Salernes, à Pontecagnano.
In September 1943, Peter BLOCK and his unit landed in Taranto (Italy) and made their baptism of fire in heavy fighting around Bari. In November, the 2nd Independent Parachute Brigade was created from units of the 1st Airborne Division. The 21st Parachute Pathfinder Company will split from one of its platoons to create the 1st Independent Pathfinder Platoon. Composed of members of the 21st, the unit will be expanded by men from the 3rd infantry battalion, the 4th, the 5th, and the 6th Battalions.
Then, the unit was transferred to Sicily and attached to the American 51st troop carrier Wings group in order to carry out combined training, specialised in the marking drop zones and landing zones for American crews. Following 5 monthes of intense training in Sicily, Peter BLOCK and his comrads from the scout platoon joined Italy, and the 21st Brigade near Salernes, in Pontecagnano.
D'avril à Mai , l'unité va combattre en renfort de la division néo-zelandaise à proximité de Monte Cassino, et va connaitre de violents combats. 
A la fin du mois de Mai , Peter BLOCK se porte volontaire pour participer à une petite mission avec le 6th welsh battalion, nom de code HASTY, visant à empêcher l'ennemi de démolir routes et ponts lors de leur retraite. Le 1er juin, l'opération est lancée, les 60 hommes commandés par le Capitaine FITZROY-SMITH sont largués prés de Torricella. Peter est interprète lors de la mission. Sans cesse attaqués par l'ennemi, les 60 hommes de l'opération HASTY vont passer leur temps à fuir l'ennemi et leur tendre des embuscades. Pendant une semaine le groupe va maintenir la pression sur l'ennemi et va réussir non seulement à empêcher les allemands de détruire les points stratégiques, mais aussi bloquer entiérement les renforts ennemis déployés contre la 8th armée britannique. 
 En Juin 1944, la brigade est placée sous les ordres du général US Robert FREDERICK et fait partie désormais de la First Airborne Task Force. Les préparatifs pour l'invasion du sud de la France sont lancés et le 1st independent Pathfinder platoon va être le fer de lance de l'invasion. Le 15 Août 1944, Peter et ses camarades sont les premiers alliés à toucher le sol de Provence, à 3h30 du matin. Leur entrainement en Sicile leur aura été d'une grande aide puisque 80% de l'unité se regroupe en a peine 15 minutes. Ils vont rapidement et efficacement mettre en place les panneaux réfléchissants et les lampes prévues pour guider les transports de troupe C47 Dakota du gros de la division. 
 Par la suite, les éclaireurs vont servir à nettoyer la Landing zone "0", autour du Mitan et vont même créer un aérodrome de fortune pour accueillir le Major PEARSON dans l'après midi du 15 Août. 
Le 21 Août, tous éléments britanniques embarquent à Fréjus pour rejoindre Bari, ou ils vont se préparer pour une autre opération.
 In June 1944, the brigade was placed under the command of US General Robert FREDERICK and is now part of the First Airborne Task Force. Preparations for the invasion of southern France are launched and the 1st independent Pathfinder platoon will spearhead the invasion. On August 15, 1944,
Peter and his comrades are the first allies to hit the ground in Provence, at 3:30 in the morning. Their training in Sicily will have been of great help to them since 80% of the unit regroups in barely 15 minutes.
They will quickly and efficiently put in place the reflective panels and the lamps intended to guide the C47 Dakota troop transports of the main division.
Subsequently, the scouts will be used to clear the Landing zone "0", around Le Mitan and will even create a makeshift airfield to accommodate Major PEARSON in the afternoon of August 15th.
On August 21, all British elements embark at Fréjus to join Bari, (Italy)  where they will prepare for another operation.
Le 12 Octobre Peter BLOCK et ses camarades sautent sur la grèce, et se battront tout d'abord contre les forces d'occupations puis la guerre dans le pays va prendre une allure de guerre civile et la 2nd brigade va combattre contre les ELAS, un groupe armé communiste qui les avaient soutenus lors de la libération du pays. En Janvier 1945 la brigade retourne en Italie puis aprés le jour de la victoire du 8 Mai, rejoignent l'Angleterre. 
On October 12 Peter BLOCK and his comrads jump in Greece, and will fight first against the occupying forces then the war in the country will take on the appearance of a civil war and the 2nd brigade will fight against the ELAS, a communist armed group which had supported them during the liberation of the country.
In January 1945 the brigade returns to Italy then after VE day, May the 8th, they will be send back to England.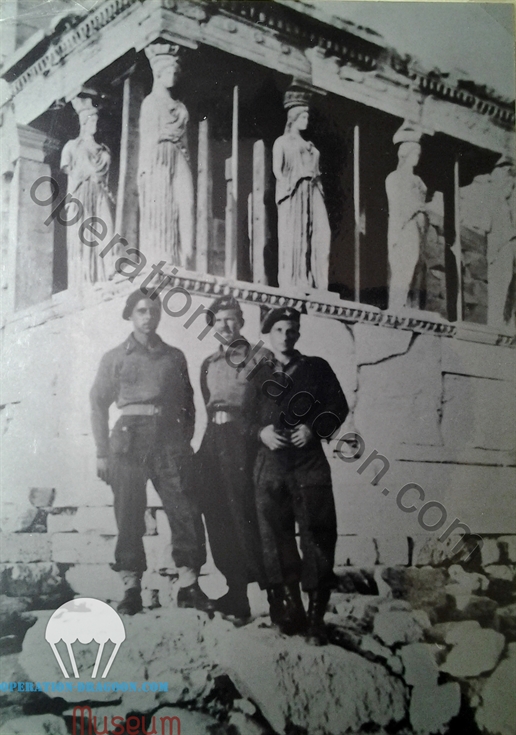 Peter BLOCK refusera de servir en Palestine en 1946/1947, et sera démobilisé à Chilton Foliat en Août 1945.
 Aprés la guerre il travaillera dans le commerce pharmaceutique et pendant pus de 20 ans dans un groupe de recherche, en charge de l'Europe de l'Est. 
Il prendra sa retraite le 1er Juillet 1987, et s'occupera de sa famille dans sa maison de Londres, ses enfants David et Ruth, et ses petits enfants Rebecca, Nicky et Esther. 
  A compter de Aout 1994, ou nous rencontrons pour la 1er fois Peter, Il reviendra régulièrement dans le sud de la France jusqu'à sa disparition.